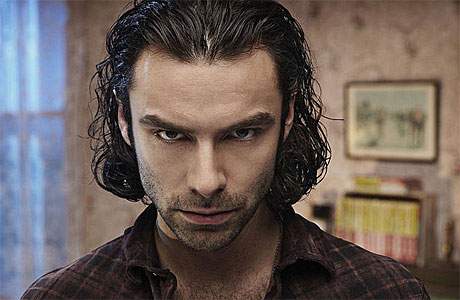 BBC America's Being Human is having a strange week; on the one hand, SyFy have just announced that they'll stop making the American version of the supernatural horror/comedy/drama at the end of Season Four, but on the other, Aiden Turner, who played the tortured vampire Mitchell in the first seasons of the British version, has just been signed up to take the lead role in the revival of a British classic.
The 1970s series Poldark was one of the BBC's first and best costume dramas. Set in Cornwall in 1783, it's the story of Ross Poldark, brooding and rebellious firebrand, who returns from the War of Independence in America to find the life he left behind altered beyond recognition: his beloved is set to wed his cousin, his father has died and their mines have all closed. Cornwall is beset by a ruinous recession and even his family home has been all but destroyed.
Based on the novels by Winston Graham, the new BBC adaptation will be split into eight hour-long episodes, written by Debbie Horsfield.
In a BBC press release, Aidan, who recently finished filming The Hobbit trilogy, said: "I'm very excited to play Ross Poldark for the BBC and it's obviously a huge challenge to honour the extraordinary character Winston Graham created and who Debbie Horsfield has brought new life to. But there's a terrific team coming together and the scripts are superb, so I can't wait to get started."
Andrew Graham, Winston's son, added: "I am delighted at the choice of Aidan Turner as Ross, as I am sure my father would have been. Ross in the novels was a man of dark good looks, impulsive temperament, strong loyalties and deep emotions. I am greatly looking forward to seeing Aidan bring all these qualities freshly to life."
And if you can't wait that long, the original series is still available as an eight-disc DVD set in the BBC Shop.
See more:
Not Getting Enough of Your 'Downton Abbey' Fix on TV?
The Top 5 Unsettling Cameos Of Mark Gatiss
Being Whoman: Five Acting Crossovers Between 'Doctor Who' And 'Being Human'
Believe It Or Not, This Icky Robot Skeleton Baby Is British
Read More
Filed Under: