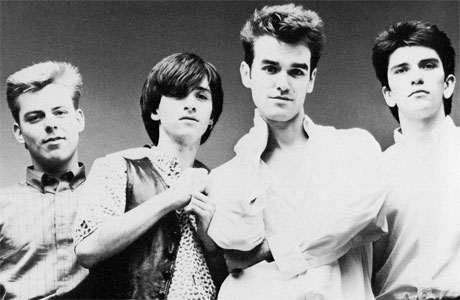 Valentine's Day is one of those events that serves to teach us all an important lesson, namely that no two romantic entanglements (or the lack thereof) are the same. It might seem like everyone is all hearts and flowers all day long, but, y'know, some people are allergic to pollen.
That said, there are some points of common advice in matters of the heart that should really apply to everyone, So if you're a little unsure how to proceed beyond the first giddy rush of "hello," rather than fixate on blandly yelling amorous thoughts to the sparkling skies, have a listen to these five songs and take their lessons to heart.
"Stoplight Roses" – Nick Lowe
If you want to be a player, that's your business, but there are a few rules you will need to learn unless you want to spend a lot of time ducking slaps and flying drinks. Here, Nick offers the sage advice that your scheming is a lot more transparent than you let on, and that buying flowers from stoplights and gas stations is worse than buying no flowers at all.
"Today The Sun's On Us" – Sophie Ellis Bextor
An update to "Let's Face The Music And Dance" with a keening chorus that carries a simple, optimistic message. Sophie suggests that, although dark times may be on the way, you can handle it if you stick together, if your batteries are properly charged up and if you feel ready to tackle whatever comes your way. Right now it's time just to enjoy a momentary respite from the cares and worries of life, hold hands, and breathe.
"Ask" – The Smiths
For a certain type of person, quoting a Smiths lyric is the perfect aphrodisiac, particularly that whole "if there's something you'd like to try" section. Mind you, for a certain type of person, writing "frightening verse to a buck-toothed girl in Luxembourg" is the perfect aphrodisiac. We're all different and we've all got needs.
"This Will Be Our Year" – The Zombies
Two minutes and eight seconds of grateful optimism in the face of frustration and woe. Play this to your someone special today, and watch them melt. Or run from here to Timbuktu, if you've read the signals badly.
"Don't Come The Cowboy With Me Sonny Jim" – Kirsty MacColl
The same basic message as "Stoplight Roses," except this time from a girl's point of view. Not that all cowboys are boys either (see verse 2). Be aware of the other person's feelings and take your socks off, these are important things to remember.
See more: 
Five Unlikely (But Great) Beatles Covers
Five Great Richard Hawley Songs
Five Great British Songs About The Queen
Five Great British Literary Songs
Read More
Filed Under: