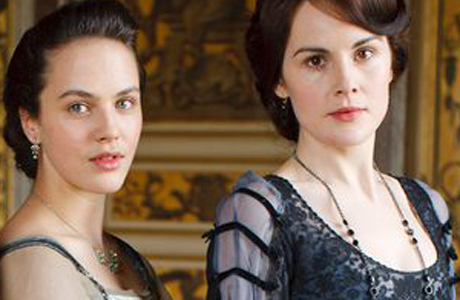 Downton Abbey's Crawley sisters are going to the movies. Or, more accurately, fans of the hit British TV show can soon head to the multiplex to watch two of the actresses who portray aristocratic siblings on the period drama in starring roles in big budget films.
Jessica Brown Findlay, who played Lady Sybil, and Michelle Dockery, who plays Lady Mary, both have roles in movies opening, respectively, this Friday and at the end of the month.
Findlay portrays the romantic lead opposite Irish-born star Colin Farrell in Winter's Tale. Based on a novel by Mark Halprin, the romantic fantasy drama is about a woman who dies and the love struck fellow determined to bring her back to live.
It's the actress' first major role since leaving Downton Abbey–her character died after childbirth–midway through its third season. She opted not to renew her contract, preferring, like costar Dan Stevens (who played brother-in-law Matthew Crawley) to try her luck with films.
Here's a trailer:
http://www.youtube.com/watch?v=DBSj1MKwx6A
Dockery, whose widowed Lady Mary character currently is juggling at least two beaus on Downton Abbey, has a major supporting role in Non-Stop, a thriller starring Liam Neeson and Julianne Moore. The Irish-born Neeson portrays an air marshal forced to swing into action midway through a transatlantic flight when he receives threatening texts. Dockery plays a flight attendant working aboard the plane.
She shot the movie in New York during her break between Downton's third and fourth season.
Check out the trailer:
http://www.youtube.com/watch?v=LwdltXBa1a4
And what of Laura Carmichael, the actress who plays the third Crawley sister, Lady Edith? After completing filming on Season Four of Downton, she spent last fall shooting a new film version of the classic 19th century novel, Madame Bovary. The movie stars Australian actress Mia Wasikowska, who's playing the title role, and Welsh actor Rhys Ifans.
It also stars Paul Giamatti, who–small world!–will soon be turning up on Downton Abbey as Edith's playboy American uncle. The Bovary film as yet has no release date.
Which of these movies do you want to see?
 See More:
Read More
Filed Under: