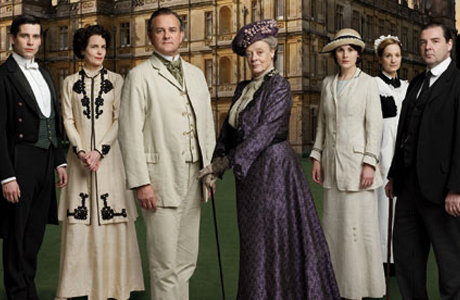 Now that the final episode of Downton Abbey's fourth season has aired, fans of the hit British drama will have to wait all the way until January for a new season to start on PBS. That's a long time to go without knowing who'll win Lady Mary Crawley's affections and whether Mrs. Patmore will be able to adapt to modern kitchen appliances, not to mention missing out on regularly hearing the Dowager Countess' withering bon mots.
(Of course, fans with unlimited money can travel to the U.K. in late September and plunk themselves down in front of the telly when Downton begins airing there on ITV. Or–and this is illegal–desperate fans in the U.S. can download pirated episodes shortly after they air in the U.K.)
To help stave off or alleviate withdrawal symptoms, and with tongue planted firmly in cheek, here are ten predictions for will happen next year on Downton Abbey:
1)   Lady Mary's suitors, Lord Tony Gillingham and Charles Barkley, will grow tired of waiting for Mary to decide which of them she prefers. They will fall in love with each other and move to Tahiti together.
2)   Lady Edith will open and serve as head mistress at a daycare center located in Downton Abbey's parlor, all part of an elaborate subterfuge to spend time daily with her illegitimate, now toddler daughter.
3)   Cousin Rose will enroll in special classes in London to become less annoying. She'll fail every course.
4)   Anna and John Bates will be blissfully happy all season, with nothing dire or untoward happening to either of them. They'll end up confessing to each other that they are bored out of their minds.
5)   After holding hands during the staff's holiday at the beach in Season Four's final episode, Mr. Carson and Mrs. Hughes embark on a torrid affair. Carson will be inspired to resurrect his career as a music hall performer–his stage name is Carson the Magnificent–and he'll convince the housekeeper to join him in his stage act.
6)   Lady's maid Baxter's big secret, the one that scheming Thomas Barrow blackmailed her with all of Season Four, will finally be revealed: her first name is Sassypants.
7)   Lady Cora will tell husband Robert she's sick and tired of him being a pompous stick in the mud. To try to convince her he's hip to modern ways, Robert will learn to Charleston and boldly suggest to Cora that they explore sex beyond the missionary position.
8)   Mrs. Patmore will surprise one and all when she invents the "radio dinner," a pre-packaged, set-portion, convenience meal served on a disposable tray and meant to be eaten while listening to programs on the wireless. She becomes rich overnight and retires to a cottage in Bath.
9)   Thomas Barrow will channel his gossip mongering constructively by becoming a columnist on neighborhood doings for the local newspaper. He is soon hired away by a Fleet Street rag and goes to London, where he discovers that gay people can live happily ever after without having to scheme all the time to bring down those around them.
10) Violet, the Dowager Countess, will bob her hair. Everyone at Downton Abbey, both upstairs and down, will be shocked, shocked, shocked. She'll tell them to get over it and get a life. Only Isobel will do so.
What are your predictions for next season?
See More:
'Downton Abbey' Season Four Recaps
'Downton Abbey's Leading Ladies To Visit the Multiplex
'Downton Abbey' Gets Renewal for Fifth Season
Read More
Filed Under: