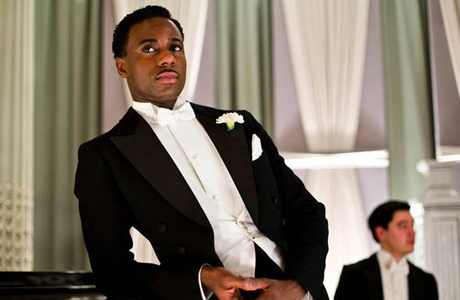 Woo-hoo! Lady Mary (Michelle Dockery) has yet another potential suitor, even if she and he don't yet know that they're meant for each other. Downtown Abbey gets what is, judging from everyone's stunned expressions both upstairs and down, its first ever black visitor: Jack Ross (Gary Carr), an American singer and jazz band leader invited by Cousin Rose (Lily James) to perform at Robert Crawley's (Hugh Bonneville) birthday dinner party. And Lady Edith (Laura Carmichael) receives confirmation that there's to be a blessed event in her future.

Those were just the highlights in the latest action and dance-packed episode of Downton Abbey, the hit British series.

We'll get to all of that anon but first a big shout out to the episode's most touching scene, in which three lonely people bonded in bittersweet memory over loves lost. Lady Mary and brother-in-law Tom Branson (Allen Leech) are in the nursery, playing and cuddling with their respective offspring, baby George and toddler Sybie. In walks Isobel Crawley (Penelope Wilton), who is Mary's mother-in-law and little George's paternal grandmother. Isobel tells Mary that she read in the newspaper that Lord Gillingham, who wooed Mary unsuccessfully earlier this season, is now engaged to be married. "I hope you don't mind. I should hate for you to be unhappy," Isobel says kindly.

"I'm not unhappy," Mary replies. "I'm just not quite ready to be happy."

All three Lonely Hearts Club members then recall with enthusiasm and longing the happy days when they first met and married their now dead spouses and just how head-over-heels in love they were. "Well," Isobel asks ruefully, "aren't we the lucky ones?"

The possible new man in Mary's life is Charles Blake (Julian Ovenden), a colleague of Evelyn Napier (Brendan Patricks). (The latter no longer appears to be a contender in the romantic partner for Mary race.) The Crawleys have invited the two men to stay at Downton Abbey while the pair traipses about Yorkshire on behalf of the government to prepare a report on why so many great estates are failing.

From the get-go, Charles and Mary are oil and water. Their instant aversion to each other means, as fans of romantic comedies know, that love can't be far behind.

Their every conversation quickly turns into sniping. Mary finds Charles unsympathetic to the plight of her fellow aristocratic landowners with troubled estates. "You seem to have brought a traitor into our midst," Mary tells Evelyn. "He's obviously not on our side."

The loathing is mutual. "She's the type who demands all this as a right," Charles tells Evelyn, taking in Downton's impressive expanse with a gesture, "but she wants it on a plate. She won't work for it and she won't fight for it and that type doesn't deserve to survive."

Will Charles change his mind when he finds out that Mary is an active owner and that she and Tom are talking about turning Downton into a pig farm as part of their strategy for saving the estate? Here's betting that these two antagonists will be panting breathlessly in each other's arms within a couple episodes.

Cousin Rose's surprise guest is a hit. While initially wary, Robert takes one look at the delighted expression on the face of wife Cora (Elizabeth McGovern) as Jack and his band perform and promptly whisks her into his arms and onto the dance floor. Even Violet, the Dowager Countess (Maggie Smith), takes his appearance in stride. When a shocked Edith asks her grandmother if it is "suitable" for Rose to have brought Jack to Downton, Violent responds tartly, "My dear, we country dwellers must be aware of being provincial." (Proving Violet has come a long way indeed toward joining the modern age since Season One, when she took umbrage at the very notion of relaxation with her famous disapproving question, "What is a weekend?")

Downstairs, the staff is gracious to Jack after getting over their surprise at his hue, though Carson (Jim Carter), inserting his foot into his mouth, does ask the bandleader if he wants to visit Africa. Mrs. Patmore (Lesley Nichol), listening happily during the party to the strains of ragtime and jazz coming from upstairs, says, "Makes you want to jig about, don't it?"

"Certainly not!" sniffs the butler.

Later that evening, after Carson has long since gone to bed–and a good thing too, given his belief in proper decorum and everyone knowing their place–Mary spots Rose and Jack kissing in the servants' quarters. She doesn't let on that she caught them with locked lips but looks concerned as she makes her way back upstairs.

Lady Edith receives a letter from her London doctor confirming that she is in her first trimester. She has still heard no word from the presumed father, beau Michael Gregson, who's missing in Munich. (If this were a musical, Edith would sing "Missing in Munich" as a love ballad.) Separately, both Robert and Cora sense that something's troubling Edith–she's on the verge of tears for most of the episode–and try to comfort her. She confides only that no one has heard a peep from Michael and that his publishing company has hired a private detective, along with the Munich police, to look for him.

In other developments:

Say goodbye to footman Alfred Nugent (Matt Milne). He's off to train as a cook at the Ritz hotel in London after all. Before he departs he says a private farewell to Daisy Mason (Sophie McShera), the lovelorn assistant cook. "I'm sorry if I hurt you," he tells her. "You're a good person and you're going to make some man very happy some day, but I'm afraid it were never going to be me." Daisy gets over herself enough to wish him well and mean it.

Alfred's departure opens up the footman's job for Joseph Molesley (Kevin Doyle), who was once Matthew Crawley's valet but of late has been delivering groceries and working on road crews. Carson initially refuses to hire him since the butler feels that Molesley is neither humble nor grateful enough at the chance to return to service.

Mrs. Patmore and Mrs. Hughes (Phyllis Logan) come to Moseley's rescue. Over a nice cuppa, they concoct a plan. Putting it into action, Molesley impresses Carson by volunteering for the most demeaning of jobs, serving the other servants. Carson capitulates, grumbling, "I give in. I can't fight a war on every front." Molesley is back in uniform at Downton.