After the excitement over Peter Capaldi's costume, confirmed details about Season Eight of Doctor Who have been kept to a necessary minimum. So it's a delight to have news of a new recurring character.
Danny Pink is a teacher at Coal Hill, the same school as Clara Oswald, and the same school that Ian Chesterton and Barbara Wright were working in, back in 1963, when they first met a strange young lady called Susan Foreman. How his life becomes entangled with that of the new Doctor remains to be seen, but he does at least have a nice coat.
As we discovered yesterday, he'll be played by Samuel Anderson—Jenna Coleman's workmate in the British soap Emmerdale, among other things—and he's mustard keen to get started, telling the Doctor Who website, "it's an honor to be able to work alongside Peter Capaldi and Jenna Coleman and I can't wait to show people how my character becomes involved with such a fantastic duo!"
In making the announcement, Steven Moffat said: "For the fourth time in Doctor Who history, Coal Hill School is coming to the aid of the TARDIS. In 1963 teachers Ian Chesterton and Barbara Wright accompanied the First Doctor. These days it's the turn of Jenna Coleman as Clara Oswald. And very soon now, Sam Anderson as Danny Pink will be entering the world of the Doctor. But how and why? Answers are coming later this year in Peter Capaldi's first series of Doctor Who!"
Here's what else is going on in space and time this week:
• Peter Capaldi appeared with Graham Norton at BBC Worldwide's annual Showcase event in Liverpool, wearing the full Doctor costume:
• Artist Paul Hanley has created this beautiful piece featuring the many faces the Doctor has taken in the canon world and beyond, tilted, "The Infinite Doctor."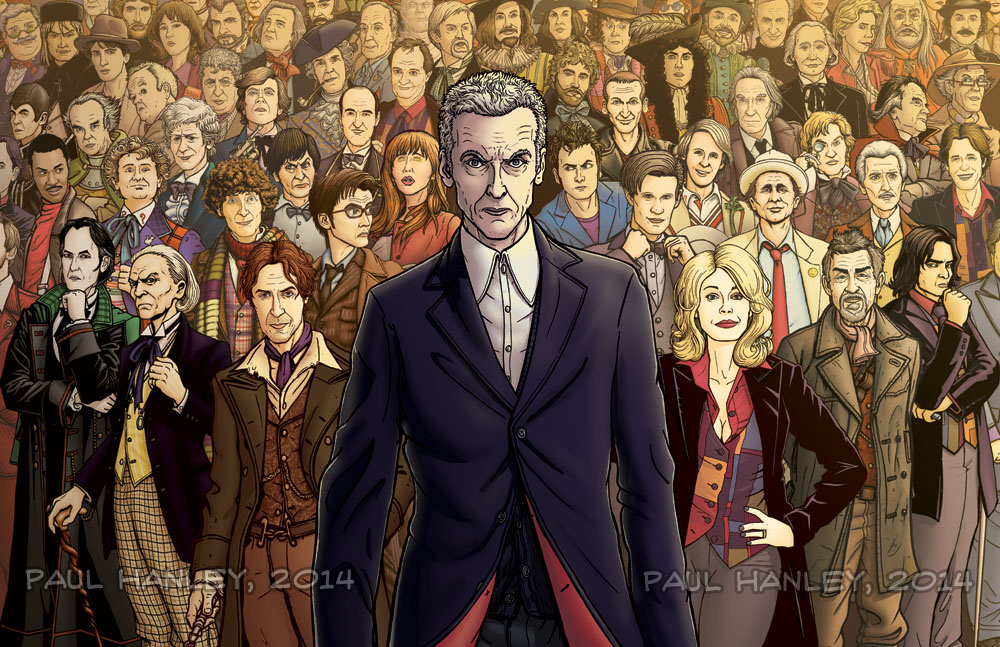 • Here are ten of the most timey-wimey episodes that were NOT written by Steven Moffat (surprise!), according to WhatCulture.
• Matt Smith sent this video to a terminally ill four-year old fan, Jack Robinson:
http://www.youtube.com/watch?v=mIOfz9nFLb4
• RadioTimes went through their archives and found a few gems of the creative geniuses that were behind Doctor Who's history.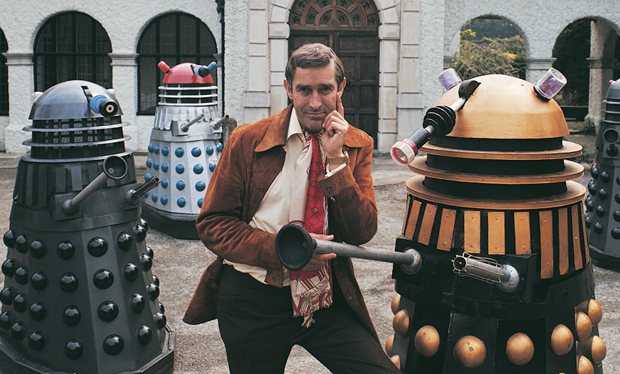 • WhatCulture takes a look at the ten most poetic lines from Doctor Who.
• Karen Gillan tweeted the real first photo that was ever taken of her and Matt Smith in character as the Doctor and Amy Pond from four years ago:
• Arthur Darvill will be reprising his role of "Guy" (no, not the name, but actually just guy) on the West End in the musical Once.
• Frazer Hines, the former Jamie McCrimmon—highland warrior and companion to the Second Doctor—has just signed up to appear in a new Scots romcom that puts him back in the Highlands.
• The first of the Perth Mint of Australia's line of 2014 Silver Proof Doctor Who Coin, Doctor Who Monster series has released and it's of a Dalek:
Let's end with something EPIC, shall we? A pretend trailer for an untold story, starring the Doctor, and the Doctor, and the Doctor, and the Doctor, in "Nightmares of the Time War"
TTFN!
Read More
Filed Under: