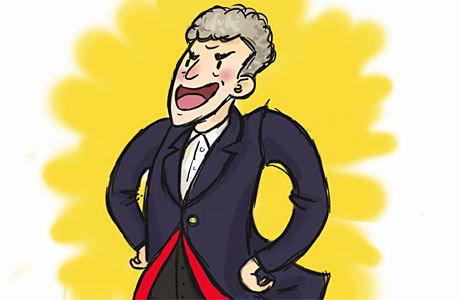 Last week, we brought as many instant reactions to the new Twelfth Doctor costume, as worn by Peter Capaldi, as we could find. But of course some of the very best responses took a little longer to filter through (like the above cartoon by limbel). Especially as people started to get creative, as so many Whovians do.
SO, to get us started: Here are five reasons why Twelve's costume is "the best ever."
• Last week, Peter's quote about his outfit—"No frills, no scarf, no messing, just 100 percent Rebel Time Lord"—inspired tumblr user halorvic to create this gem:
• The Radio Times got a designer to deconstruct Capaldi's ensemble.
• Meanwhile, inquiries about Crombie coats (in particular navy blue ones with red lining) have more than doubled.
• The Telegraph ran a cultural history of the Crombie, so Whovians can really appreciate the significance of the Doctor's new jacket.
• And the Independent even coined the phrase "mod man in a blue box."
• Entertainmentwise take a look at how the new costume fits in the lineage of all the others.
And then Doctor Puppet came along and beat everyone:
Here's what else has been going on in Space and Time this week:
• Did you see any familiar names on Dr. Sheldon Cooper's 'Sheldon-Con' wish list, from The Big Bang Theory?
• 10 reasons why An Adventure In Space And Time was the best drama of 2013, according to What Culture.
• Reece Shearsmith says he doesn't believe film director Ben Wheatley's "savage streak" will come through in his directing of the first two episodes of Who Season 8.
• WhatCulture took a look at the ten times we Whovians were represented on the show.
• Have a look at this remarkable wall clock (via Mycroft's Umbrella):
• Have we seen the end of River Song? Den of Geek takes a look into theories as to how River could come back.
• John Hurt pays tribute to his former co-star Philip Seymour Hoffman, who passed away on Sunday (February 2).
• You can now unlock cute little Adipose on the Doctor Who: Legacy app when you complete the season 6 level, Zygon Ambush: Nefertiti and Riddell. 
Or you can purchase the squishy balls of fat in the store!
• Delve into an analysis of the Doctor's moral compass from Den of Geek.
• Another great fan-created Twelfth Doctor title sequence, this time from YouTube user John Smith:
• Let's end with a fundamental shift in reality: What if Doctor Who took place in the Disney-verse? And why do all the non-human Disney characters suddenly look utterly terrifying?
TTFN!
Read More
Filed Under: