Last Sunday (February 16), Christopher Eccleston, the man who ushered in a whole new era of Doctor Who when the show was relaunched in 2005, celebrated his 50th birthday.
His contribution to the life and mythology of Doctor Who—being the Doctor most affected by the events of the Time War that we have only just seen, and the Doctor who set the brisk, commanding tone for both David Tennant and Matt Smith to match—is hard to calculate. Certainly it would be tough to argue against the suggestion that his was the version of the Doctor that most needed to succeed with fans since Patrick Troughton took over from William Hartnell.
No Ninth Doctor, no Tenth, and so on.
So, it's worth pausing a moment just to offer our sincere thanks for everything that has happened since the Doctor first grabbed Rose Tyler's hand and shouted "run!"
Here's how he came in:
And here's how he left:
Plus: our look at what made Christopher Eccleston's Doctor special and how to dress like the Ninth Doctor.
And having made a fantastic cake and blown out all the candles, here's what else has been going on in space and time this week:
• Here are ten little tidbits you may not have known about Doctor Who.
• The Second Doctor episodes that were newly recovered last year will be shown on the big screen in London Saturday, February 22.
• Creative Outpouring designed this beautiful meta-Doctor self-portrait piece:
• According to a poll, people would rather fall out with family members than miss an episode of Sherlock or Doctor Who!
• This one's for all you rotters out there; A personality quiz, in which you get to find out, when it comes to villainy, if you're a Moriarty or a Master.
• Watch the trailer for the un-official Doctor Who spin-off, Minister of Chance, starring Paul McGann:
http://www.youtube.com/watch?v=AN5McoDJPUU
• Den of Geek takes you through 10 Who stories that you can no longer watch.
• Here's a guide to coming out as a Whovian and to easing your "neophyte" loved ones into Whovianism.
• This is daft, and funny. Who-zen, anyone?
• Alex Kingston is leading a Whovian reunion (of sorts) with Noel Clarke and Reece Shearsmith in a new ITV drama called Chasing Shadows.
• Doctor Who inspired painter to make these incredible works of art: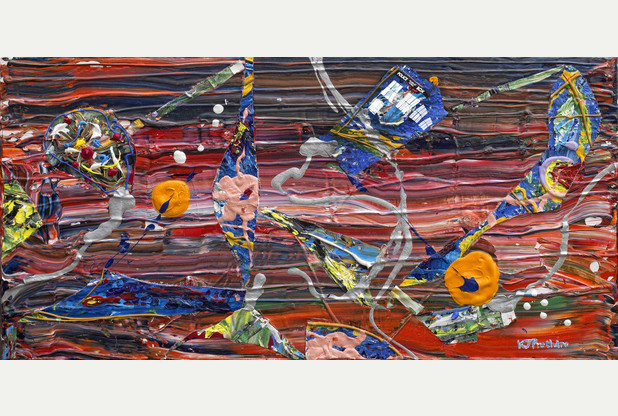 • Have you ever wondered who would have played all twelve Doctors had Doctor Who been American? Well, BuzzFeed figured it out.
• Here are ten of the best NuWho villains…who only appeared once.
• And then take a look at ten of the most disturbing Who storylines here.
• Hats off to smallerpictures, who wondered what it would be like if the Doctor had his own Facebook Look Back video:
• We're all anxiously awaiting Series Eight and getting to see Twelve in action, and Tumblr user josephgribbin assures us "he's a comin."
Let's go out with some exceptional pieces of music. The soundtrack to An Adventure In Space and Time has just been released, and excerpts have been posted on the offical Doctor Who site.
So here's an optimistic clip from a section called "I've Got An Idea:"
To capture the moment at which everything took off with suitably alien effects, here's a clip from "The Daleks:"
And finally, the bit where the departing William Hartnell stands in the TARDIS for the final time, and notices a young man looking at him across the console:
TTFN!
Read More
Filed Under: