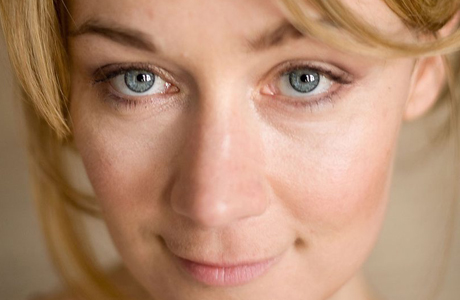 With the centennial anniversary of England's entry into World War I approaching—the U.K. declared war on Germany on Aug. 4, 1914—numerous books and exhibitions commemorating the war are showing up.
Of particular interest is Wake, a novel written by actress Anna Hope and published in the U.K. last month and in the U.S. earlier this month. Hope has appeared in smaller roles in several British TV shows, including Coronation Street, but she gets the most cred with Anglophenia readers for her two appearances on Doctor Who.
She played Novice Hame, a member of an order of cat-women nuns who ran a hospital in the "New Earth" episode in 2006 and the "Gridlock" episode in 2007. She also portrayed the same character in a 2006 segment of Tardisodes, the mini-episodes that preceded Doctor Who in during the 2006 season.
Wake is Hood's first novel. It follows the lives of three women in London, each of whom has been affected by the war. There's upperclass Evelyn, who's about to turn 30 and remains unwed after the man she loved died fighting in France; Hettie, 19, works in a dance hall to support her family because her brother came back from the war incapable of holding down a job; and middle-aged Ada, who can't recover from the loss of her son. The book is set during the five days leading up to Armistice Day on Nov. 11, 1920, when the Centotaph "empty tomb" monument in Whitehall was unveiled and the body of the Unknown Warrior was interred in Westminster Abbey.
"I knew I wanted to write about three women from early on," Hope said, answering reader questions recently for Canada's National Post, "to explore a breadth of female experience—those like Evelyn who were born in the last decade of the 19th Century, who felt as though their youth, and the men they might have loved, had been stolen from them. Those like Ada, who lost their children, and those, like Hettie, who wanted nothing more than to stop living in the shadow of the war."
The book received glowing early encomiums in Publishers Weekly, which called it a "confident, well-crafted debut," and The Kirkus Review, which weighed in with, "Fresh, confident, yet understated, Hope's first work movingly revisits immense tragedy while also confirming her own highly promising ability." A more recent review in The Guardian took the novel to task for striking an upbeat tone at the end. "Could we be so blithe about those who were bereaved by 9/11 or by the Iraq or Afghanistan wars?" the reviewer asked.
Here's Hope discussing Wake on BBC's Meet the Author program last month:
Do you want to read Anna Hope's Wake?
See More:
J.K. Rowling Confirms Second Crime Novel and Festival Appearance
Brit Binge: Five Classic Novel TV Adaptations You Can View Online
Watch: How to Get Attention for Your Novel if No One is Reading It
Read More
Filed Under: