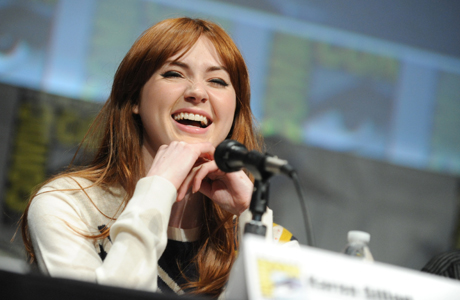 Could Karen Gillan be making a return to the small screen? The 26-year-old Scottish actress, best known to Doctor Who fans for playing companion Amy Pond from 2010 to 2013, has won the lead role in the ABC pilot Selfie, a "My Fair Lady-inspired" single-camera comedy from Suburgatory creator Emily Kapnek, reports Entertainment Weekly.
Gillan will play Eliza Dooley (get it?), a narcissistic, social media-obsessed twentysomething who achieves notoriety when an embarrassing public breakup scene is caught on video and goes viral. She seeks the help of a "marketing expert" to repair her image. (If the latter role has yet to be cast, we have a suggestion. His name rhymes with Smarthur Carvill.)
We'll keep you posted if the pilot gets picked up. In the meantime, Gillan has two films coming out—the horror film Oculus and the all-star superhero film Guardians of the Galaxy. Below is a short teaser for the latter, which features a glimpse of Gillan. Can you spot her?
So, what do you think? Wanna see Karen's Selfie?
See more:
Five Adorable Karen Gillan Moments To Celebrate Her Birthday
Read More
Filed Under: