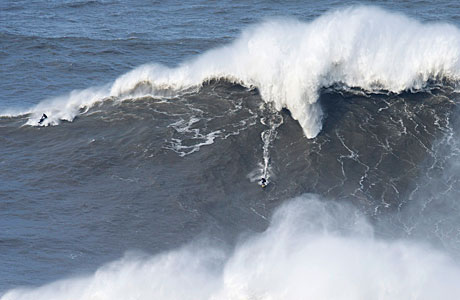 I love the smell of blimey! in the morning. It smells of… wait, what?
Look at this video clip. It shows a mad man from Devon deliberately going out into the kind of sea most people would think of as being unfriendly, and riding a plank back to shore.
And that's not just a strange thing he has decided to do against the advice of health and safety professionals, he's attempting to break his own world record for doing this very thing:
Andrew Cotton is the man in question, and that wave, which came after a storm in Nazare, Portugal on Sunday, is estimated to be 80ft tall. Bigger than the comparatively measly 78ft wave he rode three months ago, when setting his last world record.
Of course, this sort of a thing takes some preparation. Andrew needed towing into position by jet ski before the swell caught him, and the rest, as they say, is near fatality.
He told Sky News: "It was massive that morning and I knew there was potential to catch potentially record-breaking waves.
"As I turned around I looked at it and it was obviously a big wave, but I didn't realise how big it was going to be.
"There was obviously a bout of nerves."
Luckily a smaller wave soon washed that away and he was good to go.
Now Andrew has to wait until March to see whether his is indeed the biggest wave ever surfed (on purpose) by a live human, as part of the Ride of the Year category of the 2014 Global Big Wave Awards.
See more:
WATCH: At Last! The Perfect Car To Relive Your Lost Youth
The London Underground Sings Blur
How To Open A Bottle Of Wine With A Shoe
It's Official: David Bowie Is A Better Dresser Than Elizabeth I
Read More
Filed Under: