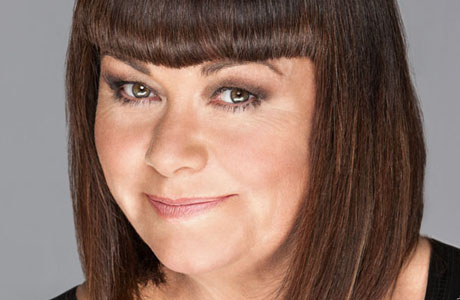 Actress and comedian Dawn French (French and Saunders, The Vicar of Dibley) is gearing up for her first solo tour, which she says will be "somewhere between a monologue, a play, and an autobiographical slideshow," reports BBC News. She doesn't hold back when saying she's, "Sick with excitement."
French is known to perform with writing and comedy partner Jennifer Saunders, but the AbFab creator will be sitting this one out. We're hopping Saunders will be at home writing the next installment of Absolutely Fabulous, as talked about earlier this year.
The tour, called 30 Million Minutes, will take place throughout the U.K. and Ireland, with 38 shows, beginning in June and running through August 2014. If you're wondering, 30 million minutes is 20,833 days. Hmm, what could that mean? Oh, wait a minute. 20,833 days is 57 years … And guess how old French is? Yep, 57. Ta-dah!
While there are no U.S. tour dates, we're still excited to hear about the plans. We have a sneaky feeling we might get a peek of the show online. Or, even better, it might be turned into a one-off TV special. Fingers crossed.
French won't be completely on her own with British theater director Michael Grandage overseeing the production. When asked about working with Grandage, French told BBC News it was like having "one of my three genie wishes granted."
We recently saw French in Mathew Baynton and James Corden's Hulu-exclusive The Wrong Mans. French was lovingly hilarious as the overly doting mother to Corden's character, who played her adult son who still lived at home.
Her Wrong Mans performance left us wishing for more. Hmm, possibly we're cashing in on French's second genie wish?
Will you be in the U.K. this summer to see any of her shows?
See More:
Dawn French is James Corden's Mum … 
Dawn French's Diet Tip: Eat Less, Walk More
10 Things So Right About 'The Wrong Mans'
Read More
Filed Under: