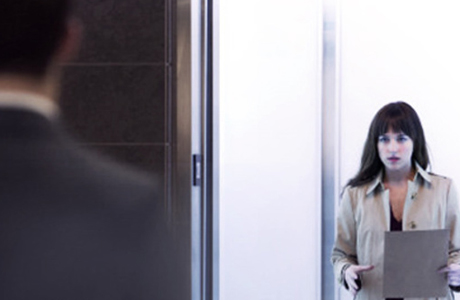 We know, we know, you guys say you are not interested in the upcoming film Fifty Shades of Grey. We've received reader comments via  our Facebook page like, "Oh god, they're actually going through with this?" and the delightfully morbid, "I'd rather witness an autopsy."
While Fifty Shades is facing a tough crowd, we have a sneaky feeling there are a lot of people out there who are intrigued, even if it's just based on pure curiosity.
Last month, Focus Features released the first movie poster for the film, featuring the back of English actor Jamie Dornan, aka, Mr. Grey, staring over Seattle, Washington. The follow-up poster, released on Valentine's Day, gives us a look at Anastasia Steele, played by American Dakota Johnson (21 Jump Street).
The residents of Seattle are a little miffed because apparently the billboard has not yet been erected in their city in which the book is based, reports E!. Fans have been complaining to the mayor's office. So, yeah, someone does want to see this film.
The marketing scheme just gets better and better with the new poster's tagline saying just two words, "One Year." Yup, we have an entire year, leading up to the release date.
It just seems like people really are not feeling this film. Yes, they will go out and see it but more so to witness it fail in a Showgirls-esque way. This seems like one of those occasions that it'd be best to just stay under the radar, keep your head down, and work away. And then, ta-da! The film comes out and it's bigger and badder than anyone could have ever expected. Wishful thinking?
Do you think the film is being over-promoted too early? 
See More:
First Look: 'Fifty Shades of Grey' Movie Poster 
Christian Grey is Hiring an Intern
Five Sexy Book Adaptations We'd Like to See Before 'Fifty Shades of Grey'
Read More
Filed Under: