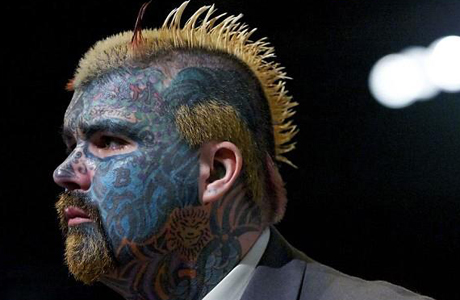 Birmingham, England native Matthew Whelan, 34, is so keen on tattoo art that he's covered 90 percent of his body in inked drawings, spending over $40,000. His commitment doesn't stop there with him legally changing his name to King Of Ink Land King Body Art The Extreme Ink-Ite, reports Yahoo!
That is quite a mouthful but the name has made it onto his driver's license. But when applying for a passport to travel overseas for work, his application was denied. Apparently the passport people (yes, that is their official name) preferred to use his name that originally appeared on his birth certificate.
It's not clear if the name was vetoed due to the length or what it actually says? Possibly they can meet halfway and use an acronym like KOILKBATEI? Err, yeah, that might cause even more confusion.
The King Of Ink (we've taken liberties in shortening his name for this post) released a statement saying, "This is a breach of my human rights. They want to put my birth name on my passport. But that is not my name anymore."
The King Of Ink has filed an appeal and politician John Hemming, Liberal Democrat Member of Parliament for Birmingham, is backing him up with his support.
Our one complaint is that he's capitalized "Of" and "The" but that's because in the U.S. we follow the AP Style of writing and Brits do not. So, we'll let it go.
If he doesn't get it sorted by the time his trip comes around, maybe he can follow this guy's plan?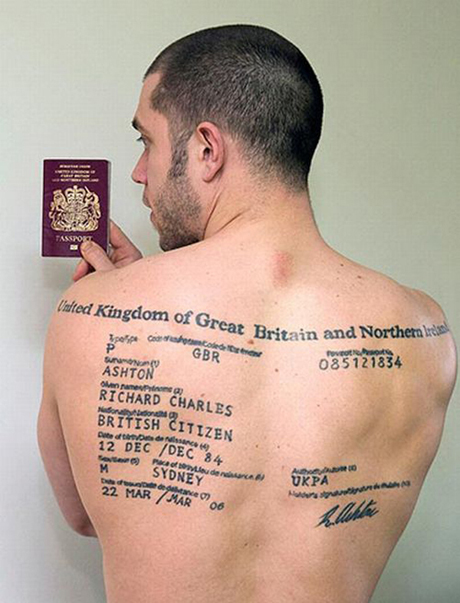 Yahoo's Broken News Daily tidies it all up in the video below:
Do you think he'll make his trip? 
See More: 
10 British Things About Washington D.C. (British Ink Tattoos) 
Emma Watson Stopped by Airport Security
How to Get a U.S. Green Card
Read More
Filed Under: