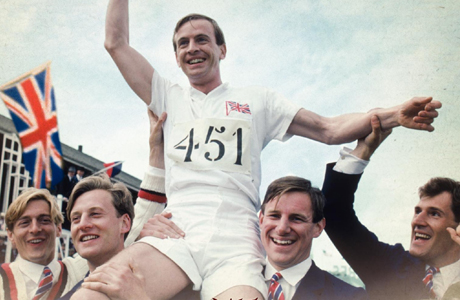 The Olympics come around every four years, but you can watch these Olympic-inspired films all year:
1. Chariots of Fire
Based on true events, two British runners, Scot Eric Liddell (Ian Charleson) and Englishman Harold Abrahams (Ben Cross), compete in the 1924 Olympics but for very different reasons. 


Watch Chariots of Fire on Amazon.com Instant.
2. Eric Liddell: Champion of Conviction
This documentary tells the story of Eric Liddell, who is featured in Chariots of Fire. The documentary tells of his work as a missionary in China and his athletic drive.
Watch Eric Liddell: Champion of Conviction on Amazon.com Instant.
3. Going for Gold: The '48 Games
Based on a true story, two young English rowers (Matt Smith, Sam Haore) are thrown together just six weeks prior to the 1948 Olympics and attempt to get in sync for the Games. The athletes put their differences aside, in order to represent the nation and compete in the double sculling event.
Watch Going for Gold on iTunes.
4. International Velvet
Tatum O'Neal, Anthony Hopkins and Christopher Plummer star in the sequel to British-born Elizabeth Taylor's National Velvet. O'Neal portrays an American teen who moves to England to live with her Aunt Velvet (Nanette Newman) after she loses her parents in a car crash. The teen begins riding horses and catches the attention of Captain Johnson (Hopkins) who realizes she's good enough to compete at an Olympic level. 


Watch International Velvet on Amazon.com Instant.
5. Fast Girls
In modern day England, two sprinters (Lenora Crichlow, Lily James) from different sides of the track, butt heads when they find themselves on the same track team. The film follows their lives, on and off the track, as the girls work toward competing at the World Championships, which is a qualifier for the Olympics. 


What's on your playlist? 
See More:
Brit Binge Watching: Five British Indie Movies You Can View Online
Brit Binge Watching: Five British Music Documentaries You Can View Online
Brit Binge Watching: Five Classic Novel TV Adaptations You Can View Online
Read More
Filed Under: