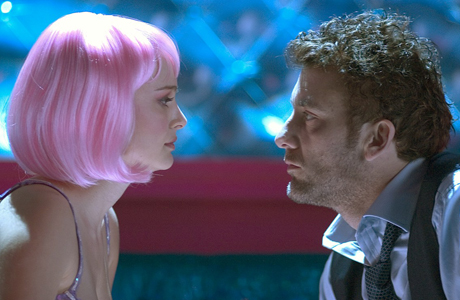 Valentine' Day is one of those days that people really get worked up over. It's fun to celebrate love whether it be romantical, a friend or a family member. But, please, don't beat yourself up if you're not going out on a hawt date. Instead, let's tune-in to some steamy, not so sweet, British films available online:
1. Closer
Based in London, two couples get tangled up with each other. Funnily enough, both couples are a hybrid of an English man (Jude Law/Clive Owen) dating an American woman (Natalie Portman/Julia Roberts). While the actors and actresses are all attractive, the story is not so pretty.
Watch Closer on Amazon.com Instant.
2. Shame
The UK Film Council's Shame is sex with a side of sex. Michael Fassbender plays an Irish expat in NYC who has been extremely busy having paid-for-sex, daydreaming about sex and getting busy in the office bathroom. He finds himself in a bit of trouble when he's busted for spending hours of his work life online surfing porn.
3. Submarine
Teenager Oliver Tate (Craig Roberts) has one thing on his mind. We'll give you one guess. Yep, s-e-x. He is desperately determined to lose his virginity before his 16th birthday. He sets his sights on classmate Jordana Bevan (Yasmine Paige) who he describes as "mildly unpopular," which he believes gives him a better chance. Oliver signs up for more than what he bargained for when he finds himself absolutely in love.
Watch Submarine on Netflix. 

4. A Dangerous Method
Michael Fassbender takes on the portrayal of real-life psychiatrist Carl Jung, who contributed to the development of Freud's (Viggo Mortensen) psychoanalysis as a way of understanding and helping people who suffer from mental illness. Jung is introduced to Sabina Spielrein, played by Keira Knightley, who suffers from "hysteria." Jung, against his better judgement, begins a sexual affair with his patient, which involves bondage and spanking per Spielrein's request.
Watch A Dangerous Method on Amazon.com Instant or iTunes.com.

5. Match Point
Irish actor Jonathan Rhys Meyers takes on the role of a former professional tennis player. He finds himself at a crossroads when his tennis career comes to an end. He bides his time working as a tennis pro at a private club but he wants more. He befriends club member Tom Hewett (Matthew Goode) who introduces him to his mousey sister (Emily Mortimer). She is obviously keen on the tennis player but, still, he wants more. Oh, you know, his new bestfriend's American girlfriend (Scarlett Johansson) will do. Tsk, tsk. This is a good reminder as to why it's nice to be single. It's safer! 
Watch Match Point on iTunes.com.
What's on your playlist?
See More:
Watch: Warm Up with Heated Scenes from British Costume Dramas
Snapshot: 10 Sweet Smooches From Celebrity Brits
The 10 Most (And Least) Romantic British Places to Take Your Valentine
Read More
Filed Under: