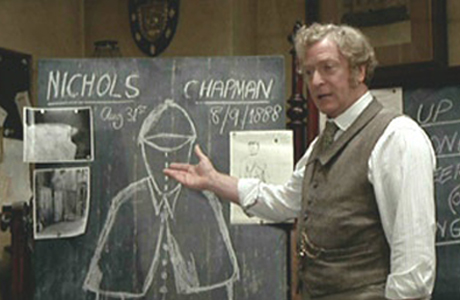 The infamous Whitechapel murders committed in London, England during 1888-1991 remain unsolved. The serial killer believed to behind the 11 gruesome murders of London prostitutes, sent a mocking letter to Scotland Yard, which was signed, "Jack the Ripper." The unsolved mystery is still being talked about today, with the story being retold in television and film. BBC America's Ripper Street returns for its second season on Saturday, February 22 at 9/8c. In the meantime, here are five film adaptations revolving around Jack the Ripper:
1. Jack the Ripper
In this two-part mini-series; Michael Caine takes on the role of real life Chief Inspector Frederick Abberline who was assigned to identifying and locating the serial killer known as Jack the Ripper. Abberline wonders out loud, "Can you be normal one minute and then insane the next?" It leads us to believe, the "vanishing" killer may be out in plain sight.
Watch Jack the Ripper on Amazon.com Instant.
2. From Hell
Whitechapel Inspector Frederick Abberline (Johnny Depp) is on the heels of a serial killer who is plucking prostitutes off the street and leaving them for dead. Abberline is drawn into the case, suspecting the killer is an educated person and has the skills of a surgeon. He soon realizes that this is bigger and more diabolical than just him and the killer.

Watch From Hell on Amazon.com Instant.

3. Ripper: Letter from Hell
A group of college kids learns about Jack the Ripper in class. They're asked to "step into his mind" as part of a classroom exercise. The students soon realize they are being hunted down by a copycat Jack the Ripper.  


Watch Ripper: Letter from Hell on Netflix.
4. Murder by Decree
If anyone can solve a mystery it's Sherlock Holmes (Christopher Plummer). But, has Sherlock met his match with Jack the Ripper? Sherlock and his partner Doctor John Watson (James Mason) realize this may not be the case they're actually meant to solve, and it's just a part of the bigger puzzle (if that's imaginable).
Watch Murder by Decree on Netflix.
5. The Secret Identity of Jack the Ripper
This 1998 documentary investigates Jack the Ripper and the murders he committed, which happened 100 years earlier. The documentary walks us through Scotland Yard's search, possible suspects and ties to the Royal Family.
Watch The Secret Identity of Jack the Ripper on Hulu.com.
What's on your playlist? 
See More:
Personality Quiz: How Would You Die in Victorian England? 
10 Famous British Graves
Want More? Five Movies About Jack the Ripper
Read More
Filed Under: