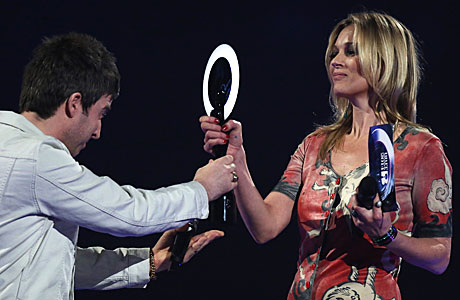 It's official, after at least 45 years in the business, David Bowie has finally arrived, taking the Best British Male award in the 2014 Brit Awards. It's been a long haul—some people believed he may have just given up, chastened by some of the newer, more youthful acts on the scene, but finally his perseverance has been rewarded at the ripe old age of 67.
Sadly, being very, very cool, he couldn't make it to the ceremony itself, so Kate Moss was deputised in his stead, wearing one of his legendary stage costumes (with rabbits on). She read the following statement:
"In Japanese myth, the rabbits on my old costume that Kate's wearing actually live on the moon, Kate comes from Venus and I'm from Mars. So that's nice!!
I'm completely delighted to have a BRIT for being the best male. But I am, aren't I Kate?
I think it's a great way to end the day.
Thank you very, very much.
Scotland please stay with us."
Just ignore the slight undercurrent of chippiness, he's delighted really.
Elsewhere, it was all shambles: One Direction won an award for global success, but Harry Styles was late to the stage because he was "having a wee." Which just isn't quite as stylish, is it?
Later on, they won best British video for "Best Song Ever," which sort of misses the point of the song, while the actual best song award (best single) was won by Rudimental's "Waiting All Night," and THEY weren't even kept waiting all night for their trophy. It's just sloppy.
Ellie Goulding won best British female, and trembled as she accepted her award. Bastille won best British breakthrough act, Bruno Mars won best international male, Lorde won best international female, and Daft Punk took best international group. Nile Rogers came up to accept their award as they were off having a polish.
Arctic Monkeys had a good night, winning best album (for "AM") and best British group for the third time, with Alex Turner giving a supremely dry speech about "that rock 'n' roll" and how it'll never die, before concluding with an imperious "invoice me for the microphone" and dropping his mic on the floor and stalking off.
And that was that, bar a lengthy jam between Pharrell Williams (in that hat) and Nile Rogers. A verse and a chorus of "Get Lucky," a smidge of "Good Times" and all of "Happy," which is about as perfect an end to anything as you could possibly want.
See more:
Five Songs That Contributed to the Moral Decay of Great Britain
Down With The Gentrification Of Pop Music!
The 2014 Brit Awards Nominations: It's Bastille Day!
Read More
Filed Under: