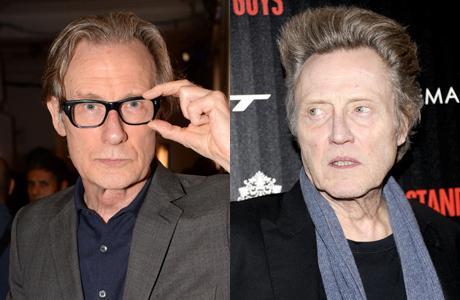 Really good, confident actors aren't afraid to share the spot light as does Bill Nighy (The Best Exotic Marigold Hotel, Love Actually) when lamenting about his BBC2 Turks & Caicos film co-star Christopher Walken, reports RadioTimes.com.
There appears to be a new bromance in town with Nighy talking up Walken saying, "Christopher Walken? I'm obsessed."
Of course, we assume he's using the word "obsessed" in passing, but maybe we shouldn't jump to conclusions.
Nighy goes on to elaborate saying, "Christopher is everything I would like to be. Everything he does is poetic, every move, every breath he takes. In a man, men are often deadened by those versions of being a man. His version I sincerely dig. There's something about him I find profoundly attractive and witty."
Woah, that is quite nice and such a compliment. Who knew Walken was such a stand-up guy? Nighy is pretty poetic himself in this description of the famed American actor, known for his extreme roles as seen in Pulp Fiction and Batman Returns.
Nighy says he's only made such a proclamation once before and it was to David Bowie. Apparently Bowie wasn't as enthused by the praise, but Nighy says that's because Bowie had heard it for forty years at that point.
Nighy plays opposite Walken in a spy film set in Turks and Caicos. Nighy comes upon a group of seedy Americans, but Walken's character stands out from the crowd. The film will air in the U.K. on BBC2 in March 2014, also starring fellow Brit Helena Bonham Carter and American actress Winona Ryder.
We wonder if Christopher Walken returns the feelings? 
See More:
'About Time's Bill Nighy on Time Travel
Writer-Director Richard Curtis Debates Retiring from Directing
Bill Nighy Chats Occupation Wall Street
Read More
Filed Under: