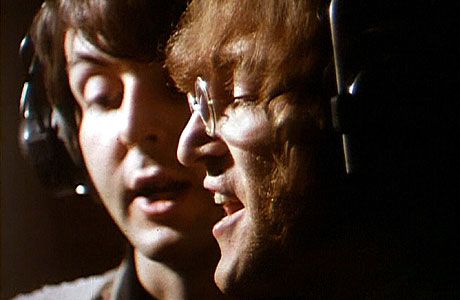 Every fan has played this game from time to time. How would subsequent Beatles albums have sounded if they had managed to put aside their differences in 1969 and kept working together as a unit?
It's hard to be clear, and any putative tracklisting will always favor cherrypicking the biggest songs from a fan perspective, rather than the one John, Paul or George most wanted to record on the day. But what the hell, let's give it a go.
So here's the alternative narrative: while bickering and generally needing to break out of the suffocating fraternal bonds, the four Beatles resolve to map out their career in a dual state. Their best ideas going into communal albums, on the understanding that solo albums will happen, and no one is to bad-mouth anyone in public.
This works, with occasional lapses, such as John Lennon's bitter solo swipe at Paul McCartney on "How Do You Sleep," and George Harrison's equally exasperated "Wah Wah." Paul's huffy "Too Many People," which seems to have been the cause of John's fury, was originally suggested for inclusion on a Beatles album, before being quietly relegated when it becomes clear there are hidden messages in the lyrics.
Note: if you want to play along at home, fire up your streaming services, launch your mp3 library or just make a few mixtapes the old-fashioned way. Here's how it could have worked.
1970 – Working title: "Early 1970"
Side 1:
Side 2
"Mother" (John)
"All Things Must Pass" (George)
"Every Night" (Paul)
"That Would Be Something" (Paul)
"What Is Life" (George)
"Early 1970" (Ringo)
"Love" (John)
"Run of the Mill" (George)
"Maybe I'm Amazed" (Paul)
"Junk" (Paul)
"My Sweet Lord" (George)
"Isn't It A Pity" (George)
"Working Class Hero" (John)
"God" (John)
After he brought "Something" and "Here Comes The Sun" to the sessions for "Abbey Road," George Harrison's backlog of hidden treasures starts to become a key feature, and he takes a more dominant role in the tracklisting. Duly chastened, the group finally buckle down to record his often-suggested "All Things Must Pass" and that song about God that John thinks sounds like "He's So Fine."
John has his own song about God, of course, written after a particularly poisonous row with the others that would have entirely broken up the band, were it not for Ringo's insistence that Paul and George take a back seat on some of John's new, minimalist compositions. This emboldens Paul to start multi-tracking his own songs by himself, including the beautiful "Junk." Ringo details all of this uncollaborative collaborating in his wry "Early 1970," wondering which of the other three will bother to help him finish it. Hurray for George!
1971: Working title: "Beware of Darkness"
Side 1:
Side 2
"Imagine" (John)
"Gimme Some Truth" (John)
"Another Day" (Paul)
"Heart of the Country" (Paul)
"Beware of Darkness" (George)
"Back Off Boogaloo" (Ringo)
"Crippled Inside" (John)
"Jealous Guy" (John)
"It Don't Come Easy" (Ringo)
"Awaiting On You All" (George)
"Oh My Love" (John)
"Ram On" (Paul)
"Back Seat Of My Car" (Paul)
"Instant Karma" (John)
There are signs that George's loaded cupboard of wondrous songs is already starting to empty slightly, while Paul is still drawing heavily from the well of sweet melodies that provided his peak moments as a songwriter in the '60s. John has thrown himself into the problems of the world (and the glory of his new relationship), and come back with an incredibly strong sense of purpose, one shared by Ringo, who has secured two songs on a single Beatles album (the "white album" is a double) for the first time.
1973: Working title: "Let Me Roll It"
Side 1:
Side 2
"Jet" (Paul)
"I'm The Greatest" (Ringo)
"Bless You" (John)
"#9 Dream" (John)
"Photograph" (Ringo)
"Bluebird" (Paul)
"Give Me Love (Give Me Peace on Earth)" (George)
"Try Some Buy Some" (George)
"Whatever Gets You Thru The Night" (John)
"Mamunia" (Paul)
"Let Me Roll It" (Paul)
"You Are Here" (John)
"Mind Games" (John)
"Live And Let Die" (Paul)
Two years later, and things have changed again. This time it's Paul that has hit a particularly hot streak, with John wallowing in lovely pillowy soul music and throwing out dreamy pop songs about brains and sleeping. Ringo has two songs again, one written with George ("Photograph") and one by John ("I'm The Greatest"), while George's own contributions feel like the end of an inspired rush, rather than the beginning of something new.
After this album, everyone elects to take a break for a couple of years, and by the time they're ready to get back together, John has decided to retire and look after his new son Sean. George, Ringo and Paul start throwing themselves into solo albums, with Paul finding much success in his new band Wings.
And then…
1980 – Working title: "Coming Up"
Side 1:
Side 2
"Coming Up" (Paul)
"I'm Losing You" (John)
"Watching The Wheels" (John)
"Temporary Secretary" (Paul)
"Love Comes To Everyone" (George)
"Blow Away" (George)
"Attention" (Ringo)
"Woman" (John)
"Waterfalls" (Paul)
"One Of These Days" (Paul)
"(Just Like) Starting Over" (John)
"Beautiful Boy (Darling Boy)" (John)
"Summer's Day Song" (Paul)
"Goodnight Tonight" (Paul)
After scaring himself half to death at the helm of a boat in a stormy ocean, John's muse is back with a vengeance, and he's writing songs about starting again, songs about being happy, and songs about not writing songs. Meanwhile, Wings have imploded, so Paul is experimenting with disco ("Coming Up") and synthesizers ("Temporary Secretary"). George and Ringo had a rougher time of it in the late '70s, arguing with record bosses and finding it hard to come up with new and exciting songs. However, George's melodic skills have not deserted him, and his measured contributions once again provide a bridge between raw John and excitable Paul.
1982: Working title: "Here Today"
Side 1:
Side 2
"All Those Years Ago" (George)
"Here Today" (Paul)
"Wanderlust" (Paul)
"Borrowed Time" (John)
"Nobody Told Me" (John)
"Wrack My Brain" (Ringo)
"Not Guilty" (George)
"Free As A Bird" (John)
Tragically, there was no chance to see where John's reborn talents would take him next, as he was shot outside the Dakota building shortly after the band's last album was released. This collection—released as a mini-album—is a mixture of tribute songs by both George and Paul, unreleased songs by John, George's "Not Guilty" from 1969, and a George song Ringo was about to start working on when John was killed. Then there's "Free As A Bird," in which Paul, George and Ringo finish off a demo recording John made of a song he had written during his house-husband years. It provides a moist-eyed ending to the band's career, even if it misses the grand finality of "and in the end, the love you take is equal to the love you make."
So, how would you have done it differently? Tell us here:
Read More
Filed Under: