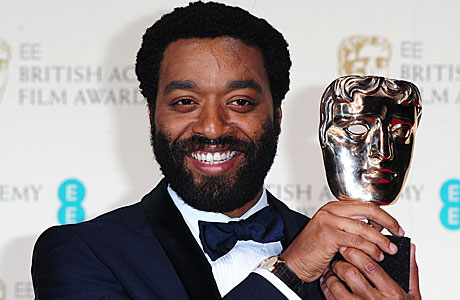 Please be upstanding for the BAFTA Film awards; the big ticket event in the British cinematic calendar, in which British acting talent and the big players from Hollywood come to a gala do in London, to be gently ribbed by Stephen Fry.
And what a cavalcade of trophies there were!
Gravity floated off with a rocketful, including best British film, best director, best cinematography, best sound, best original music and special visual effects.
Not to be outdone, 12 Years a Slave won best picture, beating not only Gravity but the highly favored American Hustle, Captain Phillips and Philomena. And of course the best picture surely must have the best actor, so step up, Chiwetel Ejiofor:
http://www.youtube.com/watch?v=bmktZZjP9E4
American Hustle didn't exactly slouch either, what with a best supporting actress trophy for Jennifer Lawrence, best original screenplay, and a richly-deserved best hair and makeup award too.
Cate Blanchett swooped in, past Amy Adams (American Hustle), Sandra Bullock (Gravity), Dame Judi Dench (Philomena) and Emma Thompson (Saving Mr Banks) and nabbed the best actress award for her part in Woody Allan's Blue Jasmine, while Barkhad Abdi won best supporting actor for scaring the bejesus out of Tom Hanks in Captain Phillips.
Baz Luhrmann's lavish retelling of The Great Gatsby won awards for production design and costume design, while Philomena, the tale of an unlikely friendship between a bitter journalist and a old woman whose child had been taken away for adoption, won best adapted screenplay for Steve Coogan and Jeff Pope.
Then there were awards for Frozen (best animation), Rush (best editing), The Act of Killing (best documentary), The Great Beauty (best foreign language film), Sleeping With The Fishes (best British short animation) and Room 8 (best British short film).
The outstanding debut by a British writer, director or producer award was won by Keiran Evans, the writer AND director of the romantic drama Kelly + Victor. And speaking of fresh talent, the Rising Star award (voted by the public) was won by Will Poulter, star of Son of Rambow, and We're The Millers.
Which just leaves Dame Helen Mirren's fellowship of the Academy, and her inspiring speech about teachers:
http://www.youtube.com/watch?v=NkjYi7uoGi4
Salutes all round, yes?
See more:
WATCH: Chiwetel Ejiofor's Sister Zain Asher Welling Up On CNN
WATCH: Chiwetel Ejiofor on the Brutality in '12 Years a Slave'
WATCH: Dame Helen Mirren Previews BAFTA Fellowship Speech
The Sky's The Limit: 'Gravity' Leads 2014 BAFTA Nominations
Read More
Filed Under: