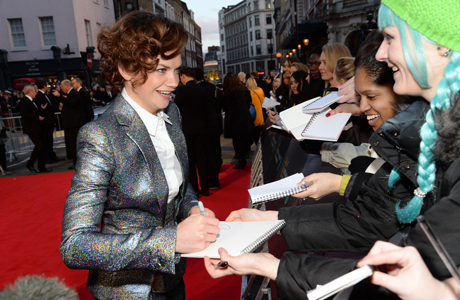 Two weeks before the Motion Picture Academy rolls out the red carpet for the Oscars, BAFTA showed them how London throws a party with the EE British Academy Film Awards. And Anglophenia's Al Moloney was there to chat with some of the night's biggest stars.
Luther's Ruth Wilson, best known as the detective series' femme fatale Alice Morgan, was there in a shimmering tuxedo to support her film Saving Mr. Banks. And she mentioned the distinct possibility that she and Idris Elba could re-team for another Luther miniseries:
Meanwhile, a bearded Michael Sheen was in attendance, singing the praises of British film before he heads back to America to film the second season of Showtime's acclaimed Masters of Sex.
Les Miserables star Samantha Barks was on hand to present an award and chatted with Al about two upcoming films:
Steve McQueen is truly the man of the hour with his 12 Years a Slave running the table on the season's top awards. The Best Director nominee spoke briefly about how he'd celebrate if he took home an award tonight.
McQueen's 12 Years screenwriter John Ridley spoke a bit about adapting Solomon Northrup's memoir for the screen and how the film's British cast and crew stretched themselves to tell a story about American slavery:
Here's Barkhad Abdi, a nominee for Captain Phillips, discussing how his life has changed since he filmed the movie:
If you were wondering why Gravity is up for Best British Film, here's one of the reasons: producer David Heyman, who spoke with us about the film's groundbreaking technology and working with Sandra Bullock:
Will Poulter, who broke through last year in the hit comedy We're the Millers, is up for BAFTA's Rising Star award this year and seemed genuinely caught off guard by all of his accolades:
Lastly, Rush director Ron Howard and star Daniel Bruühl spoke with us about their BAFTA-nominated film, which told the story of the 1970s racing rivalry between Englishman James Hunt and German Niki Lauda (Bruühl):
See more:
WATCH: Dame Helen Mirren Previews BAFTA Fellowship Speech
Read More
Filed Under: