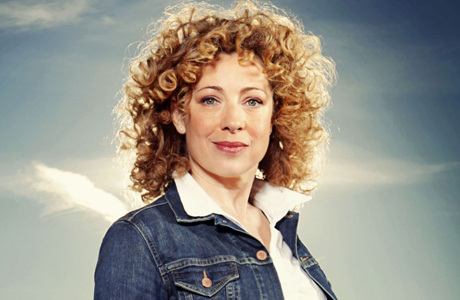 We all love River Song, don't we? The only woman in the universe (so far) that can approach the Doctor on anything like equal terms, terrifyingly good with a gun, and played by one of the most vivacious actresses Britain has ever produced: Alex Kingston.
And Alex set to continue causing ripples in Whovian circles, by heading up a new drama on British channel ITV, alongside fellow Doctor Who alum Noel Clarke (who played Rose Tyler's ex-boyfriend, and Martha Jones's future hubby Mickey Smith).
Chasing Shadows is a four-part drama, telling the story of a missing persons unit who spend their time tracking down serial killers.
It also stars Reece Shearsmith from The League of Gentlemen, who was last seen playing Patrick Troughton playing the Second Doctor in Mark Gatiss's Doctor Who biopic An Adventure In Space and Time.
Reece and Alex lead the cast, he's the neurotic detective, whose awkwardness is balanced out by his calmer, more stable partner. So it's a regular Who convention in drama form, and Alex—last year's Anglo Fan Favorite, lest we forget—is the hub around which it all revolves.
This comes after Matt Smith told Doctor Who fans at New Orleans Comic Con that he feels vaguely territorial ("really possessive") about his on-screen relationship with Alex. And he wonders what will happen if River Song ever meets his successor, played by Peter Capaldi:
"I said this to Steven [Moffat], I was like, 'Listen, just don't. Just not Alex. Anyone else, but don't give him River' – but Peter is the Doctor now so hey, what can I do?"
"I think that Steven will be planning things that are going to unfold over years. I think he'll reinvent the folklore, and it will become Peter's folklore.
"But I am really proud of the fact that Alex was part of number Eleven's life. My wife!"
See more: 
Alex Kingston Has a Message for Anglo Fan Favorites Voters!
Alex Kingston: "I Knew Matt Was Going To Leave"
Life Outside The TARDIS: Alex Kingston
Alex Kingston Reads 'The Angel's Kiss' By Melody Malone
Read More
Filed Under: