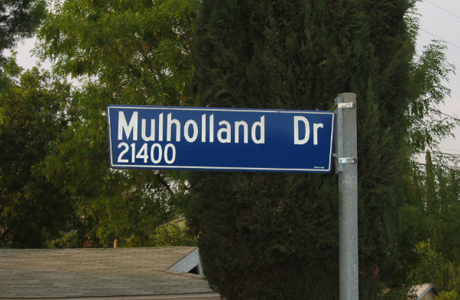 Like many other American states, we assume that California—and especially it's larger cities like Los Angeles and San Francisco—are a melting pot of people from around the world. Many of the early immigrants were from the British Isles, and some had a huge effect on the cities they arrived in. Some of them are forgotten, and some of them still live on…
William Muholland
Born in Belfast in 1855, he ran away to join the Merchant Navy as a teenager, and ended up in Los Angeles—then a town of 9,000 people. After working as one of the zanjeros helping organize the distribution of the city's water, he rose up to become the Chief Engineer of the Bureau of Water Works.
The city was growing fast and the self-taught Mulholland pioneered many projects, including the massive 233-mile L.A. Aqueduct, which needed more than 5,000 workers, over 160 tunnels and 175 miles of pipes and channels. As the water flowed at the 1913 opening ceremony, he said, "There it is. Take it."
Mulholland Drive, a 21-mile road that runs along the Santa Monica Mountains and Hollywood Hills, was named in his honor in 1924, but his career was ruined when the St. Francis Dam burst, killing over 500 people, just a day after he had inspected it in 1928. Also, the controversy over the LA Aqueduct—and where the water went—was the basis of 1974 noir classic Chinatown, which starred Jack Nicholson and Faye Dunaway.
Griffith J. Griffith
He was born in Bettws, Glamorganshire in the South of Wales in 1850, and emigrated to the US when he was barely 16. After working in publishing he made a fortune as a mining expert and businessman, and in 1882 he moved to Los Angeles, where he bought 4,000 acres of Rancho Los Feliz. In 1896, he donated nearly all of it to the city as a "Christmas Present," and they renamed it in his honor.
But scandal hit when in 1903 when he shot and disfigured his wife, and was sent to San Quentin prison for two years, his name further ruined by rumors of secret alcoholism and mental illness. He donated more land to the city, and in 1912 provided funds for the building of the Greek Theatre and the Griffith Observatory as another "present," but this only happened after his death. One of the largest urban parks in North America, Griffith Park is also home to the L.A. Zoo, riding schools, train rides, hiking trails, mountain lions and many more things Californians love.
John Muir
Born in 1838 in Dunbar, this Scotsman also helped keep America's wilderness undeveloped, green and free. "The Father of National Parks" devoted his life to the great outdoors, and his letters, essays and books helped preserve many millions of acres.
His family moved to the U.S. when he was 11 years old, and from his first botany lesson at University, he was hooked on a life of science, geology and chemistry. After recovering from temporarily blindness in an accident in 1867, he wrote of being "determined to be true to myself."
Following his dream, he then set out to explore Yosemite, eventually working there as a shepherd and building a cabin, and a lifelong passion was born. He had many adventures in the Sierra Nevada Mountains in California and petitioned Congress for the National Park bill, which established Yosemite and Sequoia National Parks in 1890. Two years after that he founded conservation organization the Sierra Club, and, among many places named in his honor is the 210 mile "JMT" hiking trail, which starts in Yosemite and ends in Sequoia.
John Parkinson
Though his work is well-known to locals and even movie-goers, John Parkinson's name is almost forgotten in L.A. Born in Scorton, Lancashire in 1861, Parkinson worked as a contractor's apprentice and attended night school to learn drafting and engineering, and by 1889 he was living in Seattle and had an architecture business.
He designed hotels, banks, colleges and universities, but the 1893 Panic and depression left him in financial trouble, and with no new commissions he decided to try his luck in Los Angeles.
Within a few years he had designed the Homer Laughlin Building (now home of the Grand Central Market), and his Braly Block was the first skyscraper in Los Angeles – until Parkinson completed City Hall in 1928 (a building you've seen many times in movies).
In 1920 Parkinson had been joined by his son Donald, and the duo designed many of L.A.'s most famous buildings including the Memorial Coliseum (famous from the 1984 Olympics) and Union Station, which celebrates its 75th anniversary in May and has been seen in Batman Begins, Blade Runner and many other movies.
In 2013 fellow Lancastrian Stephen Gee wrote a large, lavish book about Parkinson, determined to bring back his name into contemporary L.A. history:
"Academics focused too narrowly on the giants of modernism who came after Parkinson, but none of them did as much for Los Angeles. Also, Donald died in 1945 and his son ten years later, so there was no one left from the family to champion their legacy."
Thomas Fisk Goff
Though his work includes perhaps the most famous icon in the world, Goff is even more forgotten. Born in London in 1890, he had settled in Los Angeles by the 1920s and was doing well as the owner of the Crescent Sign Company, so his commission from a real estate company looking to sell land under some hills was probably no big deal.
Goff took on the design of the sign, which was lined with 4000 flashing light bulbs and meant to last a year or so. Hopes were high when in 1923, the 400-foot wide "Hollywoodland" sign stood proud and sentinel over the small town below, but over time the "land" dropped away and the "Hollywood" remained—only now it meant something very different.
Goff was doubtless surprised by what happened to his simple sign (which faced near-desolation in the 1970s and was saved with donations from celebrities including Alice Cooper, Andy Williams and Hugh Hefner at $27,700 per letter), but his connection to art and design continued. In the 1930s he was an employee of the Federal Art Project, and for 25 years he was field director for the American Red Cross.
The sign was declared a Cultural Historical Monument #111 in 1973, and Goff died in Atascadero, California in early 1984, leaving behind around 5000 paintings. The sign has a resident ghost, and—like all Tinsel Town starlets—has been much renovated most recently a 275-gallon-of-paint makeover last year to celebrate her 90th birthday.
See more:
How British Photographer Dawn Bowery Realized Her Own California Dream
10 Places Brits Love to Live in America
Read More