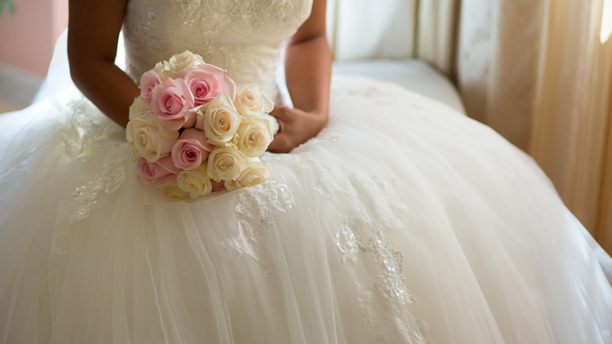 I have spent a lot of time attending weddings on both sides of the pond. A lot—as in, I have attended over 30 weddings in the past five years—including five American/British combos. Therefore, I have spent a lot of time diving for bouquets; drinking (mostly) red wine, buying expensive dresses that I only ever wear once; donning shoes that are too uncomfortable to wear one evening, let alone again; and doing line dances with one too many fathers of the brides.
I have given speeches,  been the bridesmaid, and fallen over on the dance floor too many times to be embarrassed anymore.  I have shed tears of happiness, and been in wonderment of how anyone could possibly fit all those years of love into that one day. I have no idea how so many brides and grooms get it so right under so much pressure (some wrong, but mostly right).
One thing I've been particularly interested in is, given all these pressures, how do two cultures mesh themselves together to create an event that both parties, both families and both pairs of mothers are equally pleased with?
Well, let's give it a go, shall we? I mean, you may have been planning your wedding in your head your entire life, but you may not have accounted for the fact that you were going to fall in love with an American, of all people. I am here to help. Let's pick out the best traditions of both to create the perfect blend.
It's a subtle balance. On the one side, too much extravagance will cause a British person to turn up their nose in disgust, and on the other, if it feels too stiff to an American, no one will have a good time.
Let's start with the venue.
Where to hold the wedding
You can't have a wedding without a place, and that's typically the first decision to be made. Everything else will follow from there.  American venues, as in most things American, the bigger the better. I've seen everything from brides and grooms renting out an entire museum in Chicago to an entire country club in Baltimore to changing venues midway through the day in Laguna Beach.
America definitely has variety (and probably better weather), but Britain has something American weddings can't get—history. Imagine being married in the same castle that a 16th century prince got married in or toasting in the same area where Merlin had his cave? Plus, the Americans traveling to Britain will have an excuse to travel around Europe. Be sure to consider your guest list though: since Americans typically don't get as much holiday in the year as their British counterparts, it might make more sense to let the Brits do the traveling.
The bride's dress
I won't make recommendations on the bride's dress to any extent because, no matter what culture you are in, that decision is a very personal thing. I will say that the Brits score points for a solid sense of style. In my experience, they seem more inclined to take risks with their dresses than their American counterparts.
Most people have watched so many American movies that they don't even realize its American tradition to have the bride walk down the aisle last. In British tradition, the bridesmaids follow the bride to carry her train. Personally, I think it's only right to let the bride make her grand entrance the American way, especially considering most dresses don't have the long trains anymore.
The bridesmaid's dress
Here, the British have it right. They pay for their bridesmaids' dresses, and, in doing so, they are conscious of how many bridesmaids they have. You will rarely see a wedding party in England with seven or eight bridesmaids. They keep it intimate, and only to their closest friends. So, be choosy and do the same. It just simply doesn't make sense to make your future British sister in-law pay for her bridesmaid dress. She may never forgive you.
The bar
Go the American way on this one, and have an open bar. Of course, your wedding is your own, and you are free to do what you wish, but I'm telling you now, the only thing your American guests will discuss that night is how they had to pay for their own beer. No one wants that drama on the day of his/her wedding.
Let the groom grab a beer at the local pub with his friends before the wedding. In America, we may find this tradition appalling, but I think it allows the groom some time to soak in the day and relax. After all, the bride is typically surrounded by champagne before the event; let the groom do the same in his own way.
Hats
They just make a wedding seem like more of a special event. If you want your American friends to wear hats and/or fascinators, make it part of the dress code. American photographer Kara Louise, who is married to a British expat, says, "I asked my soon to be mother-in-law if she would grace our wedding by wearing a hat with feathers, something I've always imagine to be very English. She refused, in fear that she'd be the only one adorning a hat at an American wedding. She was right, no one wore hats."
Invitations
The open bar and paying for the bridesmaids' dresses may make the wedding more expensive than you like it, but you can take the British way here and only invite closest friends and family to dinner to save some cash. Kelly Wake, an American who married an Englishman in 2008, says, "Looking back, the one part of British tradition I envy is being able to separate the dinner and reception guests. I think it's ridiculous how much Americans pay for weddings, when (from my understanding) the dinner invites in England are for close family and friends, and you can invite acquaintances and friends to the reception. Brilliant idea in my opinion!"
Speeches
Speeches must be left to the Brits, but leave the open mics to the Americans (not that you will be technically able to separate it out like that, but try). The British will deliver a speech that is at the same time self-deprecating, witty, poignant and edgy, and the Americans will actually have the guts to get up and improvise. Mind the Gap contributor Toni Hargis, author of Rules, Britannia: An Insider's Guide to Life in the United Kingdom and wife to an American man, agrees it could. She says, "We opened the floor up to anyone who wanted to say something, but being British, no one did!"
Music
I don't care how old you think your grandparents are or how sophisticated you want the event to be. After dinner, when everyone has had a few drinks, they expect to dance. So put on some upbeat dancing tunes, and just enjoy it. Watch your American Uncle Joe take off his tie and wrap it around his head, and your British brother-in-law Edward try to do the moonwalk. It'll all be worth it.
Finally, throw out all the rules and make it your own. Tradition aside, there has never been a better wedding than the wedding that is unique to that couple.
Meagan Adele Lopez is an American expat in London working in advertising, and author of British/American love story, Three Questions: Because a Quarter Life Crisis Needs Answers. You can follow her on Twitter @meagan, or find her musings on her blog.
Have you ever had or been to an American/British wedding, tell us about it! 
See More: 
What Americans Can Learn From British-Style Weddings
10 Places Brits Love to Live in America
The 10 Most (And Least) Romantic British Places To Take Your Valentine
Read More
Filed Under: