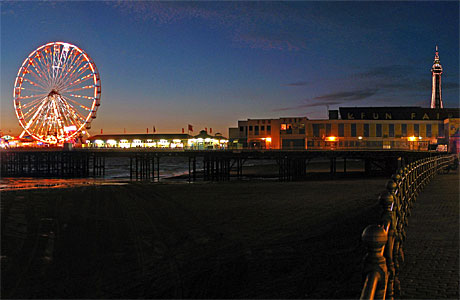 If you were thinking of taking a date to Britain on a romantic Valentine's Day jaunt, be warned: not everywhere has thatched roofs and servants called Jeeves.
In fact, according to a survey published by the holiday booking site Hotels.com, there are just as many unromantic locations for a weekend away as there are romantic ones, so you may want to hang onto this list for next year.
2,000 people were polled, and asked to name the most and least romantic destinations in the U.K., which is a little unfair, given that it's unlikely all 2,000 of them have even been to these 20 locations, let along the ones that didn't make the grade. But common themes have emerged and we must present them, as a public service.
Here's the top 10, romance-wise:
1. The Lake District
What's not to love? It's got hills and lakes and beautiful villages that sell cakes and fresh food. If you really want to take someone's breath away, fill it with pure mountain air first.
See also: Five Good Places To Get A Scone In The Lake District
2. The Cotswolds
An easier-to-get-to Lake District with smaller hills and lakes. But the cakes and food are every bit as nice.
3. London
Because of all the culture, the red phone boxes and buses, the black cabs, the iconic buildings, Baker Street, that skyscraper the Doctor rode a motorbike up that time, the Natural History Museum, Trafalgar Square… all that stuff.
4. Cornwall
An entire county full of romance (apart from some of the mining bits). Whether you're on a clifftop on the North Coast overlooking a deep blue Irish Sea, or scoffing a pasty in St Ives (where the light is unlike any other light in any other place), Cornwall is Britain's Hobbiton-on-Sea.
5. Stratford-upon-Avon
Shakespeare. Just Shakespeare.
6. York
Used to be the capital city of Britannia Inferior, under the Romans, and has managed to maintain the kind of industrial links—wool, railways, the Church of England—that only add to the charm of the place.
7. Edinburgh
Castles and culture and cuisine and that delightful Scottish burr everywhere you go. Granted, the festival takes place too late into the year for Valentine's Day, but it's still an unforgettable place to visit. Plus there's a castle. People love castles!
8. Bath
Somerset is currently under several feet of flood water, which means that getting to visit the ancient Roman baths in Bath involves wading through a mudbath of a different sort. Nevertheless the city is a UNESCO World Heritage site and boasts stunning architecture. Well worth a dip.
9. Isle of Wight
They do things differently on The Island. Here's where you'll find red squirrels in abundance (North American grey squirrels have taken over most of what habitat there is left for squirrels on the mainland), and the homes of the poets Swinburne and Tennyson, and Queen Victoria's summer holiday palace.
10. Devon
It's like Cornwall, for people with less time to spend getting there.
And the bottom 10:
1. Slough
Struck by the twin arrows of Sir John Betjeman—"come friendly bombs and fall on Slough; It isn't fit for humans now"—and Ricky Gervais setting The Office there, Slough is considered to be the kind of town that is all sub and no urb. There are more corporate central offices there than anywhere outside of London, which is just what every girl wants to hear.
2. Birmingham
It's the accent that does it. Forever associated in the public imagination with people being comically dim, if you take someone there on a date, romance is unlikely to flower.
3. Scunthorpe
The third largest urban conurbation in Lincolnshire, and the kind of town that has been artificially enhanced by industry. Scunthorpe tends to suffer in polls of this nature because it has an unappealing name. It's not as bad as nearby Grimsby, but does contain one of the rudest (and least romantic) words in the English language, so even if it looked like a Cotswold village, your date won't thank you for taking him (or her) there.
4. Hull
Just up from Scunthorpe, coastal Hull suffers from a bleak North Sea view that even an enormous bridge can't make romantic.
"Where are you taking me, lover?"
"Hull. On Earth."
5. Bradford
Another industrial town in the North, albeit one with a strong sense of community and some fine old buildings. It is, however, called Bradford: the place where Brads can cross the river. Granted, that's better than keeping them in a Pitt, but still.
6. Basingstoke
Proof that these surveys are often filled out by people who just like funny names. Basingstoke shares with Slough the suspicion that some suburbs have broken away from the suburban outskirts of London to form their own super-suburb, like the spoonful of live yoghurt in milk that makes more yoghurt happen. And if that's an unappealing thought, now you know why these places are on this list.
7. London
Has some lovely bits, and some horrible bits. Some people prefer fresh air and a view of the sea.
8. Crewe
A notable stopping point for trains heading up the country to Scotland, Crewe also has most of the letters of a word used to describe a sexual act in fairly blunt terms, which probably accounts for its inclusion. Luckily, there's no such place as Lowjob.
9. Stockton on Tees
A slightly baffling choice, given that it's a market town, and people tend to really like market towns. And it has significantly less rain than other places, and the local accent is warm, friendly and welcoming, which is why so many service industries are based there. Maybe it smells.
10. Blackpool
A perfect place to go if you are 18 and want to go on your first friends-only holiday, get very drunk and snog random strangers. Or go a hen night or stag do (bachelorette or bachelor party) and get very drunk and snog random strangers. Blackpool is a bright and cheerful seaside resort with a reputation for cheap and naughty fun. It's just not the kind of place you'd necessarily want to go with a ring in your pocket.
See also:
How To Pronounce Deliberately Off-putting British Place Names
How Do You Like THESE Apples? 10 Of Britain's Best
The 20 Rudest Places In Britain
Commit No Nuisance: Five Great British Scolding Signs
Read More
Filed Under: