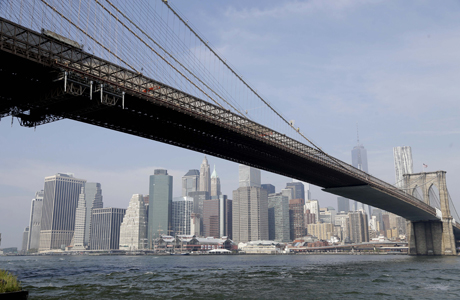 Gone are the days when "NYC" was code for "Manhattan". New Yorkers—including a vast number of Brits—are shifting south and a little bit east towards the city's second borough: Brooklyn. Here's what you need to do when you get there.
Prospect Park and the Botanic Garden
Manhattan may have Central Park but Brooklyn has this series of wild meadows—reminiscent of London's Hampstead Heath—and its better manicured sibling, Brooklyn Botanic Garden. Head to the gardens in spring to see the cherry blossoms. If you're crafty, you can even skip the entrance fee by visiting on a Tuesday, Saturday 10 am to 12 noon or anytime from November to February. Meanwhile, back in the park—which is free—you can get lost in the wooded areas, go sledding in the snow or, when the nice weather arrives, sit and picnic. But if you're really after a taste of untamed Brooklyn, sign up for a foraging course in Prospect Park run by local vegan eccentric, Wild Man Bill.
Williamsburg
Want to see hipsters in their natural environment? Then head to The Burg where they roam like shaggy cattle rocking handlebar moustaches and fluorescent legwarmers. The northern Brooklyn neighborhood, serviced by the L and G trains, is heaven for lovers of vintage gear and curious junk finds. And the food scene is thriving. Smorgasburg is a year-round foodie flea market where vendors of imaginative deliciousness hawk their dishes. If you're planning on getting fat in New York, do it here.
Walk the Brooklyn Bridge
This elegant overpass isn't just for drivers. You can also walk or bike it. Join the bridge in Brooklyn's arty Dumbo (which, incidentally, stands for "down under the Manhattan Brooklyn overpass"), to get a good look at Lower Manhattan, Governor's Island and The Statue of Liberty. Keep going for just over a mile and you'll arrive in NYC's Financial District.
Brooklyn Flea market
I've moaned before about the hilariously overpriced toot (broken wooden crate for $20, anyone?) that passes for appealing bric-a-brac at these gatherings of stallholders, hipsters and wide-eyed tourists. But you will find some decent Mexican food, and the people watching is beyond excellent. There's also a good range of craft stalls, selling everything from Brooklyn logoed onesies to quirky pottery.
Coney Island and Brighton Beach
When you're bored of riding your sustainably sourced, bamboo bike around gentrified Brooklyn, head south. Here you'll find funfairs, hotdogs and the feeling that you have been thrown back to some distant era. When you're full on the spoils of Coney—Nathan's hotdogs followed by a ride on the big wheel and a sideshow performance—head up the promenade towards Brooklyn's biggest Russian neighborhood, Brighton Beach. Here, you can wriggle your toes in golden sand then grab a bowl of borscht afterwards.
The Brooklyn Museum
No need to head into Manhattan for highbrow culture either. The Brooklyn Museum houses impressive permanent and temporary collections spanning everything from fashion and feminist art to Ancient Egypt and pottery. Time your visit with the first Saturday of every month and there's no entrance fee.
Greenwood Cemetery
Tucked south of prosperous Park Slope is an unassuming neighborhood—with a secret. Greenwood Heights is home to a gigantic graveyard with a Gothic entrance that's equal parts elegant and bizarre. You could easily spend a few hours wondering amongst Addams Family-esque tombs and elegant memorial statues from the last two centuries.
Brooklyn Bridge Park
This cleverly planned waterside park first opened in 2012 and spans 85 acres. It boasts stunning Manhattan views, urban playgrounds and Jane's Carousel—a restored merry-go-round from the 1920s. After exploring, be sure to head to the Brooklyn Ice Cream Factory in Dumbo.
Brooklyn's Chinatown
If you want to experience total immersion in Chinese culture and language without actually leaving America then get yourself to this Sunset Park enclave. Here are some of the neighborhood's best finds.
Park Slope, Cobble Hill and Brooklyn Heights
It's not exactly news that huge parts of Brooklyn, 2014 edition, have more in common with London's posh Islington than the deprived, crime-ridden parts of the borough that still exist over to the east. Top of the posh neighborhoods, where brownstones cost as much as their Manhattan rivals and are every bit as impressive, are these three excessively gentrified, stroller-packed areas. Worth exploring, even if you can't actually afford to live there.
See more:
10 British Things About New York City
10 Things Londoners Can Learn From New Yorkers
Dating While British in NYC: Tips for Online Dating
What's missing from the list? BAM and its world-class theater? Canoeing on the Gowanus Canal? Tell us below:
Read More
Filed Under: