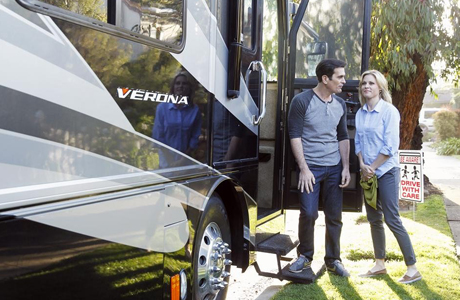 There is so much to do and see in the U.S. that you can be here a lifetime and barely scratch the surface. Most Brits here make an effort to travel the country and see the big tourist attractions, but have you ever thought about doing it a different way?
1. RV'ing
RV is for "recreational vehicle," which is simply a huge caravan to us. RV'ing is becoming more and more popular in the U.S. You can rent RVs all over the country, choosing from huge forty footers or more manageable dimensions. The large ones sleep up to six people and have bunks and trundle beds for the kids. You'll find RV parks everywhere and some of them are like mini resorts with activities ranging from guided hikes, art classes and shuttles to nearby tourist attractions. If Glamping is more your thing there are even RV resorts with spa facilities. The world (or the U.S.) is your oyster.
2. Cabins and camping
Along a similar line, the U.S. has many camp and cabin sites allowing you to get up close and personal with nature. If you don't fancy the tent, a cabin is the way to go and these can range from very rustic to very luxurious. Rustic leans more toward the campsite feel, with communal bathroom facilities, while luxury often means "better than your own home" and is a real treat.
3. History buffing
We joke that this country isn't "that old" compared to the U.K., but it's packed a lot in all the same. From Civil War re-enactments to Custer's Last Stand, you can see history in action (so to speak) all over the place. Most cities bring their histories to life with walking and coach tours (the Untouchables Gangster Tour in Chicago is a great example), while rural areas often have farms where you can learn ye olde skills such as cheese-making, spinning and farming methods. Here's a great list to browse through.
4. Going underground
As well as seeing the sights, you can see what's going on underneath the surface. Take the Homestead Crater in Utah for example, where a tunnel carved through rocks takes you to the center of the crater. It's the only warm water scuba diving destination in the U.S. but you can also stay dry if you wish. Or, you can take a subterranean journey to the Mediterranean – in California; visit the Forestiere Underground Gardens. Patterned after the ancient catacombs, it's a light and airy network of underground paths, gardens and courtyards. Some cities also have underground networks, now disused but open to the public. Portland, Oregon has the Shanghai Tunnels, Cincinnati, Ohio has the Queen City Underground Tours, and Seattle, Washington has a whole city now underground, which used to be the old sidewalks and stores.
5. Learning
Whatever your interest, there's a retreat to be found. From quilting to writing, the list is endless. Retreats (not necessarily involving isolation, by the way) are often held in hotels and conference centers, where groups of like-minded attendees either polish their skills or learn new ones. Just search your area of interest plus "retreat" to see what's on offer.
See more:
9 U.S. Vacation Destinations That Will Remind Brits of Home
Five Occasions When British Expats Should Fly Home – And Five When They Shouldn't
10 American Places Every Brit Should Visit
Read More
Filed Under: