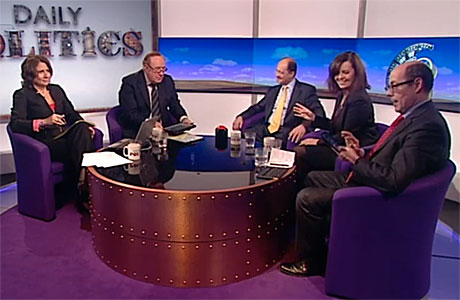 Political journalism is a terribly serious business. There is no scope, in the middle of an angry row about, say, Prime Minister's Question Time, for any form of levity, in case it looks as though you are mocking the very strongly-held and passionate feelings that your interviewee either genuinely has or is pretending to have for the sake of the camera.
Which makes it all the more inappropriate, if you're watching two Members of Parliament argue about banking bonuses, for your tablet computer to start blasting out a ripe and fairly sexist old song by Queen.
This is what happened to the BBC's Nick Robinson on the BBC's The Daily Politics, as witnessed by host Andrew Neil, and MPs Caroline Flint and Shailesh Vara.
We should all count our blessings that he's not a Jay Z fan.
And this is not the first time technology has caused embarrassment for BBC News personnel. Last February, this happened:
The kind of problem that may have been avoided if, instead of having a computer to read from, there was the actual newspaper in question.
And then there was the strange moment when BBC newsreader Simon McCoy brought a ream of printer paper out in front of the cameras instead of his trusty tablet, and held it, while reading a story about privately-run drunk tanks:
Conclusion: humans are the cause of, and solution to, all of the world's technology.
See more:
5 Gaffes and Goofs Made By British Politicians On-Camera
Watch: Nick Clegg, The British Politician Going For A Song
10 Stinging British Insults
Ten Delightful Uses For A Union Flag
Read More
Filed Under: