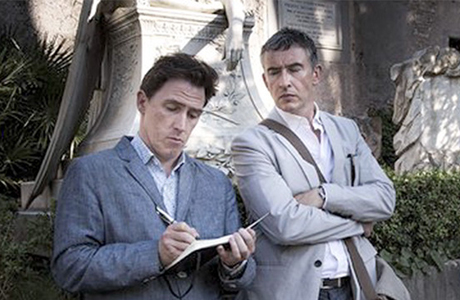 These are good times for Steve Coogan. The film Philomena, which he co-produced, co-wrote and stars in opposite Dame Judi Dench, recently picked up four Oscar nominations, including one for his screenplay. And last week he arrived at the Sundance Film Festival to unveil the eagerly awaited The Trip to Italy.
The film is a sequel to his much-loved road movie The Trip from four years ago. It follows the form of the original with Coogan and collaborator Rob Brydon traveling from one culinary establishment to another reviewing restaurants—this time in beautiful Italian surroundings.
Impersonations loom large once again with Sir Michael Caine being expertly imitated as are newly targeted stars, including a hilarious portrayal of Tom Hardy, whom many people found incomprehensible as the villain Bane in The Dark Knight Rises.

The Trip to Italy has some great moments, but there's a tinge of sadness to it which makes it more than just a light diversion. It reflects the concerns of middle-aged men and the changes in their lives as they get older.
Sundance audiences seemed to find The Trip To Italy quite entertaining, but director Michael Winterbottom is adamant this isn't an emerging franchise: he maintains there won't be any further sequels.
See more:
WATCH: Steve Coogan and Rob Brydon Simultaneously Impersonate Michael Caine in 'The Trip to Italy' Trailer
Steve Coogan, Rob Brydon Reunite for Another 'Trip' at Sundance
Read More
Filed Under: