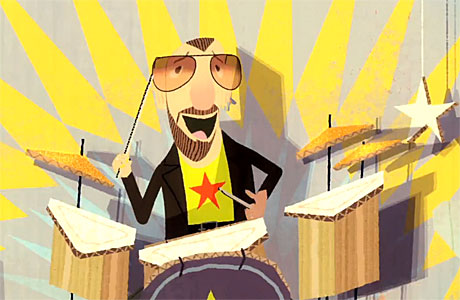 When you're one of the four most famous musicians of the 20th Century, there can't be many ambitions left to fulfil, I'd have thought.
I mean you've sold all the records, had the enormous cultural impact. You'll always be a person of interest to the musical world and you can tour whenever you like. But you have to keep moving, like the hypothetical shark, otherwise a creative death awaits you in the inky depths. So what to do?
Well if you're Ringo Starr, what you do is puton a yellow tutu, form a band with Blossom, Bubbles and Buttercup, and commence saving the world.
All in the name of peace and love, of course…
Note: Only kidding. Ringo's making a cameo appearance in the first episode of the newly revitalised Powerpuff Girls, which comes to Cartoon Network on January 20. He plays the mathematician (and drummer) Fibonacci Sequins, who is kidnapped by the evil Mojo Jojo.
What? It's no weirder than the Blue Meanies…
See more:
Popular Artist Ringo Starr Receives French Medal of Honor
Happy 73rd Birthday, John Lennon
WATCH: A Brand-New Beatles Video
Brit Binge Watching: Five British Music Documentaries You Can View Online
Read More
Filed Under: