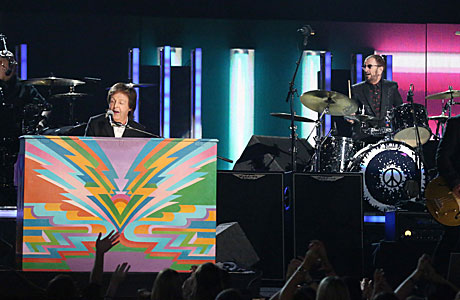 There is no reason for the sight of Sir Paul McCartney and Ringo Starr playing together on the same stage to provoke an extreme reaction. It's not as though they've not done it before, and they'll probably do it again.
But there is just something heartening, like the reminder of a youthful romance, whenever the remaining members of the Beatles get back together, especially in the year the Recording Academy award the band their Lifetime Achievement trophy. February 9 sees the 50th anniversary of the Beatles first appearance on the Ed Sullivan Show, a perfect opportunity to tip the hat to the band that changed the course of popular music forever.
And it's not as if they came out with just a nostalgia trip. Sir Paul led Ringo into a performance of "Queenie Eye," from his latest album "New" (or "MEW" if you read the neon bars on the cover art), and he also picked up best rock song of the year for "Cut Me Some Slack," his collaboration with former Nirvana members Dave Grohl, Krist Novoselic and Pat Smear.
And his live collection of swing classics "Live Kisses" won best long-form music video.
It wasn't a bad night for British artists all round. Adele's "Skyfall" won best song written for visual media, Black Sabbath's "God Is Dead?" won best hard rock/metal performance and "Charlie Is My Darling – Ireland 1965" by the Rolling Stones shared the best historical album title with "The Complete Sussex And Columbia Albums," by Bill Withers.
But yeah, Jay Z and Beyonce, Macklemore and 33 couples getting married, Stevie Wonder and Daft Punk, all of this things are great, but stage a Beatle reunion and you've got yourselves a SHOW.
See more:
Personality Quiz: Which Beatle Are You?
Snapshot: 11 Photos of The Beatles' Visit to the U.S. in 1964
Brit Binge Watching: Beatles-Inspired Films Available Online
WATCH: Ringo Starr Wishes He Was A Powerpuff Girl
Read More
Filed Under: