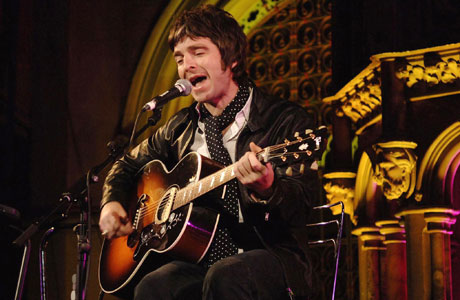 The very great Popjustice once made the point that Noel Gallagher has his entire business model upside-down. Rather than charging money for his music, and handing out interviews for free, he should give away his songs, and charge for the interviews.
Because there are very few famous people in the world that can talk like Noel Gallagher, especially when he is talking about himself.
Here's a perfect case in point. Noel was charged with the job of providing a commentary for a collection of Oasis videos: a little bit of swearing (OK, a LOT of swearing, to an NSFW degree), some anecdotes about where each promo clip was shot, and we're done by lunchtime.
He did provide all this, but also a scabrous assessment of a) making pop videos, b) some of his band's less brilliant singles, and c) the state of their shirts.
By the time we get to the monolithic "All Around The World," he is all but holding his head in his hands and begging for forgiveness.
Here's a stone-skim through the highlights (and I'm not kidding about the swearing):
Worth every penny.
See more:
Read More
Filed Under: