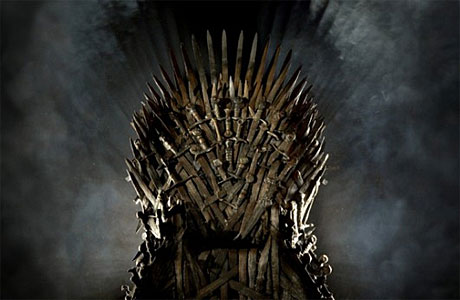 Game of Thrones is on the way back, and this time, there's lots of foreboding music, right, some running down shadowy castle corridors, there are shenanigans going on involving kings and territory, people are fighting with swords, and there's even a dragon!
Oh hang on, that's what Game of Thrones is always like. Hurrah! 
Season Four is coming this spring, based on George R.R. Martin's book A Storm of Swords, and it looks as though King Joffrey still has to work to do to defeat Daenerys Targaryen's evil plans.
George told E! News that it's time to finally bring one of his most popular written characters to life on screen: "We have another royal wedding, this one is not red; this one is a different color. We have the introduction of some great new characters. We finally introduce one of the most popular characters from the books: Prince Oberon Martell. The Red Viper of Dorne will be introduced for the first time and there will be some other new characters that I think the fans will like."
Game of Thrones is on HBO on Sunday April 6.
The only remaining question being, has anyone actually nicked themself in the buttocks after sitting on that sword-y throne thing? Or lost an arm pointing to a thing on the far left or right? It's an accident waiting to happen.
See more:
WATCH: 'Game of Thrones' Rewired As 'Medieval Land Fun-Time World'
'Game of Thrones': 'You'd Think They'd Tone The Deaths Down…'
Top 12 Fandom-Related Viral Videos of 2013
WATCH: Alan Rickman and Richard Madden in 'A Promise' Trailer
Read More
Filed Under: