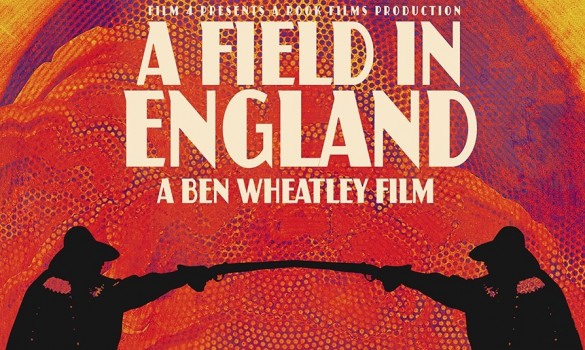 Back in May, we spoke to the writer/director Ben Wheatley (Sightseers, Kill List) about his new project, in which a small group of soldiers, running away from the horrors of the English Civil War, are captured by an alchemist on the hunt for missing treasure, and then strange, chemically-induced things occur.
A Field In England is that movie, and has just been given a hearty backslap of approval from the weighty hands of Martin Scorsese. The movie gets its U.S. cinematic release on February 7, and stars The League of Gentlemen star Reece Shearsmith (last seen playing Patrick Troughton in the Doctor Who bio-drama An Adventure In Space And Time), Richard Glover (Sightseers), and Julian Barratt (The Mighty Boosh).
There is a trailer, and it is suitably—that is to say beautifully—odd:
The full movie synopsis (in case it is not immediately clear from all that larking about) is here:
England: 1648 AD. A small group of deserters flee from a raging battle through an overgrown field. They are captured by two men: O'Neil and Cutler. O'Neil (Michael Smiley), an alchemist, forces the group to aid him in his search to find a hidden treasure that he believes is buried in the field.

Crossing a vast mushroom circle, which provides their first meal, the group quickly descend into a chaos of arguments, fighting and paranoia, and, as it becomes clear that the treasure might be something other than gold, they slowly become victim to the terrifying energies trapped inside the field.
Ben will also be writing two stories for Peter Capaldi's first season as the Doctor in Doctor Who, and if they're as unsettling as this looks, we're in for a double treat.
See more:
British Filmmaker Ben Wheatley on 'Sightseers' and 'A Field in England'
'Americans Perfectly Capable of Understanding Irony,' Says British Director
Brit Binge Watching: Five Dark Comedies You Can View Online
Five Weird British Sitcoms That Will Challenge You as a Viewer
Read More
Filed Under: