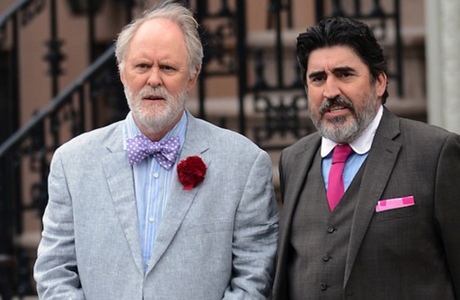 British actor Alfred Molina has been telling journalists at the Sundance Film Festival how he hopes the gay-themed drama Love Is Strange, in which he stars opposite John Lithgow, will have a broad resonance. While it is the story of a gay couple, he hopes it will be relatable to anyone who has ever experienced a devoted relationship.
"The fact that the two protagonists are two middle-aged gay men is really just a kind of backdrop," says Molina. "The real story is about this 40-year relationship. There's a universality about it—all these trials and tribulations—it's common to any relationship. Whether it's a heterosexual or homosexual marriage, it's human."
The film, by New York director Ira Sachs, focuses on two middle-aged gay men who, after four decades of being together, decide to get married.
Molina turned 60 last year, and he has some 150 production credits to his name. While he has appeared in everything from Hollywood blockbusters to television series, he feels most at home in smaller movies like the ones promoted at Sundance.
The actor says: "I would love to be making independent films for the rest of my life because that's where the interesting stories are."
See more:
Belle & Sebastian Frontman Makes Sundance Debut with 'God Help the Girl'
WATCH: Keira Knightley on Playing American in 'Laggies'
Read More
Filed Under: