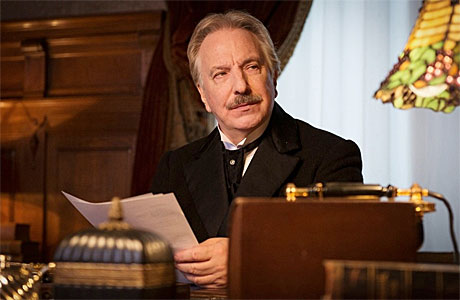 If you've been wondering exactly what Alan Rickman's been up to since he took off the curly wig and stopped checking the floor for dog mess as Hilly Krystal in CBGB, he's gone back to what he does best. Buttoned-up and starchy men whose passions are buried far beneath a crusty outer shell of respectability.
Look! He's doing it here, in the trailer for A Promise, in which he plays Karl Hoffmeister, a somewhat stiff, but respected owner of a failing factory in pre-WWI Germany. Concerned for the future, he hires a young man called Ludwig (played by Game of Thrones star Richard Madden) to help take over his more energetic duties.
Sadly, Ludwig finds himself irresistibly drawn to Hoffmeister's young wife Charlotte (Rebecca Hall), especially after he takes on the role of live-in tutor to her young child. It's at this point that history intervenes, and propriety is stretched to the very limits:
A Promise is adapted from Stefan Zweig's novel Journey Into The Past, and is directed by French director Patrice Leconte, making his English language debut.
Keep an eye out for a U.S. release date, as the film opens in France this spring.
See more: 
Saluting 'Love Actually' on Its Tenth Anniversary
Brit Binge Watching: Rickman and Hiddleston Films You Can View Online
WATCH: Alan Rickman As Hilly Kristal In 'CBGB'
10 British Acting Families (Who Are Not the Redgraves)
Read More
Filed Under: