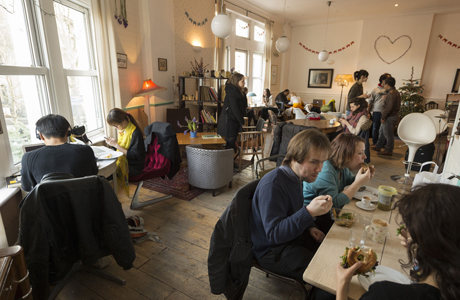 We see it all the time, people hanging out at coffee shops or restaurants typing or chatting away and we tend to think, "Don't you feel sort of guilty taking up space and time?" Or, do they just drink ten coffees in one day to earn their stay? On the other hand, there are places where you can pay-as-you-go to use their internet but it's pretty pricey and you're feeling totally rushed and stressed.
A cafe has opened in Shoreditch, London, where the food, beverages and internet access are free but you pay for your time at 3p (5 cents) per minute (£1.80/$2.96 an hour). The Ziferblat cafe, located at 388 Old Street, doesn't quite have a British ring to its name and that's because it's the first U.K. branch of a Russian chain opening up. There are already 11 Ziferblat cafes in Russia, with the first opening in Moscow in 2011.
The name means "clock face" and upon arrival you receive a vintage looking clock to bring with you to your table. Your check-in time is jotted down on a chalkboard.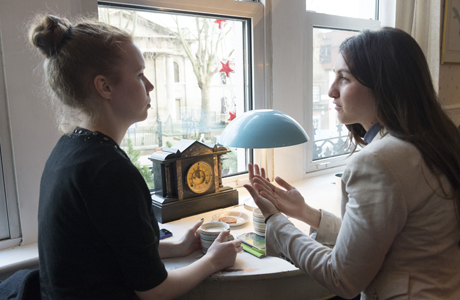 Owner Ivan Mitin, 29, said, "People aren't paying for consumption; we pay for the space and they pay for the time, so it's about participation," reports London's Evening Standard.
Participation is so key to the success of the cafe that people even do their own washing up of dishes. It sounds like the kitchen down the hall in a dormitory or hostel, but trendier.
The cafe opened in November 2013 but it seems to be just catching on recently with repeat customers. Mitin elaborated on the popularity of the communal cafe in London saying, "Five days ago we had 20 customers and today we've already had a hundred, and we've even had to turn people away because we've run out of seats."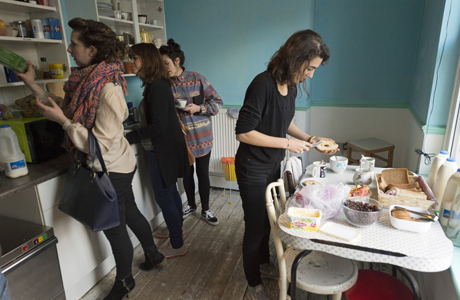 Last time we visited Old Street in Shoreditch, in 2010, it was sprinkled with offices, Kinko-like supply stores and takeaway restaurants but there wasn't too much in terms of restaurants and cafes. The streets were very quiet and everyone seemed to be inside during the day (the nightlife is different story). Ziferblat seems to fill that gap, offering a place to sit down, relax, plug in, fill your belly, rehydrate, chat with friends or make new ones, at a minimal cost. To be honest, we could have really used a welcoming place like this when visiting Shoreditch.
Evening Standard staffer Sian Boyle swung by the cafe to give it a test-run. She had two cappuccinos, was there for 45 minutes, and it cost £1.35 ($2.22). She makes a great point in that sometimes you might pop into a coffee joint to get out of the cold and end up spending more like £3 ($4.93) for a warm drink. While the name is focused on time she described the urge to "lose yourself in time" at Ziferblat.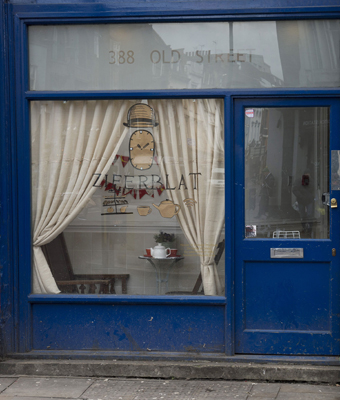 Ziferblat is open seven days a week from 11am to midnight.
What do you think of this concept? 
See More:
David Bowie's Brit-Themed Cafe Opens in Tokyo
Dunkin Donuts Makes Its Way to the U.K.
Read More
Filed Under: