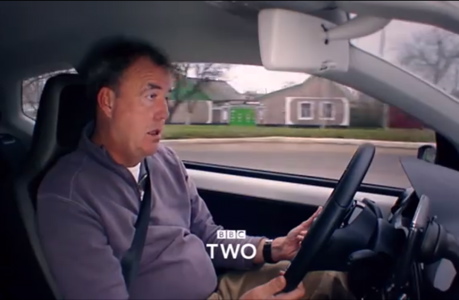 That's right, the new season of Top Gear is on its way. TopGear.com reports that series 21 will begin airing early next month, Sunday, Feb. 2, to be precise, on BBC Two in the UK, so it's only a short matter of time before we know when the new season will debut stateside.
This past week British TV audiences have seen very short, deadpan teaser trailers for series 21. Now it's your turn. In all, there have been three so far, one from each member of the triumvirate. Each is exactly eleven seconds long, so here you have just about a half a minute of teaser material:
As of press time, there'd been no teaser from The Stig.
• That certain racing driver in white, however, did join Messrs. Clarkson, Hammond and May last weekend in Scotland, where they brought Glaswegians a bang-up Top Gear Live performance, or, as TopGear.com calls it, "the cutting edge of cocking about."
Among the antics: moped chariot races, auto curling, Reliant Robin racing and England vs. Scotland car soccer.
"We always represent England – and we even occasionally win," said Clarkson before the event began in the spanking new SSE Hydro stadium, the venue for this summer's Commonwealth Games.
"I was there on Sunday," wrote one commenter on TopGear.com. "A great spectacle. Lots of FIRE!!!" Another commenter proclaimed: "Excellent show, the kids and I loved it (and not just because it's the only time we'll see Scotland beat England at football…)"
Before the event, Scottish singer Amy Macdonald, who lived out a lifelong dream as a Star in a Reasonably Priced Car in series 19, tweeted that she would join the Top Gear boys in their live bash in her hometown: "Looking forward to doing some backstage filming for Top Gear Live at the hydro tonight! New career move?!?" Here's a backstage photo of the singer with the boys:
And here's a behind-the-scenes look at Macdonald's appearance on the program last year:
Finally, what happens when a Google Street View car races the Stig on the Top Gear track? This:
Plus, you can take a tour of the track yourself via Street View. (Thanks, Gizmodo.)
Read More
Filed Under: