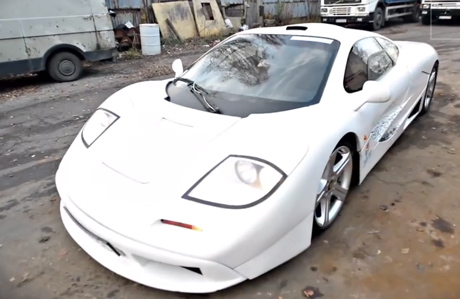 Here's a problem that you might have. You'd like to own a McLaren F1, but you're just a little short of $5.5 million, which is what one of the supercars sold for at auction last year. Oh, and that's assuming that you could even find one for sale—only about 70 road models were made, and most of the people who own them want to keep them.
One Top Gear fan, Jacek Mazur, found himself facing your exact problem, and he came up with an ingenious solution: he built his own McLaren F1, using scrap metal, an Audi engine, and Mercedes brakes, among other parts. Oh, and it took Mazur, who lives in Poland, eight years to build his dream car, with the help of more than 30 friends.
But instead of costing millions of dollars, the car cost him the equivalent of roughly $32,000, and it apparently can drive at speeds near 200 mph, which, while it's not quite as fast as the record 231 mph of the actual McLaren, is pretty damn close.
Mazur is such a Top Gear fan that he's even named a very small rear passenger seat after Richard Hammond.
"I named it the Hamonda in his honor," the 48-year-old health and safety advisor said, according to the Mirror. "It is the same size as for a child but I'm sure Richard could be a fit."
• Some say he put anonymity on the map even though he's said not to know how to read one. All we know is he's called The Stig. And that his presence on this planet has been memorialized in his appearance on Street Views in Google Maps.
Found on #StreetView. One @BBC_TopGear tame racing driver http://t.co/ZFjCRjDPch. pic.twitter.com/QZSwYj3YBu

— Google Maps (@googlemaps) December 18, 2013
Digital Spy pointed out that that The Stig is located on the side of the A82 in Inverness, Scotland, and that he can be located by using the U.K. postal code IV63 6XJ. The website also pointed out that it's not the first time that the man in white has been on Street View – click here—and look carefully in the right background of the photo.
We wonder if being in two places on Google Maps at once violates the law of physics, but, as we all know, The Stig never studied law.
• Top Gear Live is coming to the Americas! But no, that doesn't mean you'll get to see Jeremy, Richard, James and The Stig in California, Texas or New York. For its Western Hemisphere debut, Top Gear Live will be traveling to the tropical Caribbean island nation of Barbados. So make your plans now—the Top Gear Festival will be there on May 17 and 18. If you still think it's far, you might look at it this way: when Top Gear Live is in Birmingham in the U.K., that's some 3,800 miles from, let's say, Chicago. When it's held in Durban, South Africa, that's nearly 9,000 miles from Chicago. And Sydney is more than 9200 miles from Chicago. Barbados, on the other hand, is a mere 2,600 miles from Chicago. So they're getting closer! (via PR Newswire/Barbados Tourism Authority)
Read More
Filed Under: