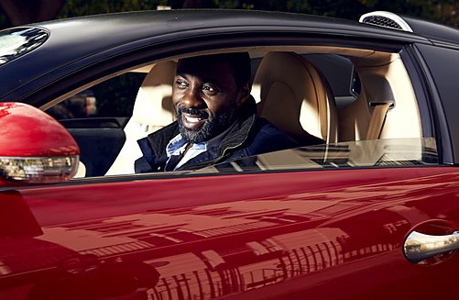 It's still very much an open question about whether Idris Elba will ever take on the role of James Bond. But it seems he's already taken on the role of Jeremy Clarkson.
The Mandela: Long Walk To Freedom star, a long time auto enthusiast, has just hosted Idris Elba: King of Speed, a two-part BBC show about cars and car culture. In it, he explores how the compulsion for fast driving has influenced the automotive world and society in general. Elba begins the first show with a look at the tire shop where he got his first job as a tire fitter and then goes on to interview folks from all parts of the racing spectrum, from Formula 1 to NASCAR to street rallies.
"Cars, racing, speed, they are and have been for many people throughout history, a way of life; either a means to make, a living, or a means to escape," he told the BBC in a Q&A. "I'm addicted to speed, it's no secret, but whilst traveling, listening, learning and telling these amazing stores, what surprised me the most, was just how far people are willing to go, the risks people are willing to take, to satisfy that addiction."
Of course, Elba gets behind the wheel himself, in the second episode even taking on a motorcycle:
The two-part program aired on BBC 2 in the U.K. during the last week in December.
• Richard Hammond is expressing sympathy for racing driver Michael Schumacher who sustained severe head injuries in a skiing accident at the end of last month.
Hammond himself suffered brain injuries in a car racing accident in 2006 and, like Schumacher, was put into a medically-induced coma at the time. Hammond said he can relate to the ordeal Schumacher and his family are going through, but that the news has been especially difficult for his wife, Mindy.
"It is genuinely for my wife particularly quite shocking," Hammond said, "to hear of it because she can empathize immediately with Michael's family," Hammond told BBC radio.
"Coming out of a coma with a brain injury," he said, "is a tremendously difficult thing to accept and get on with – all of which lies ahead for Michael."
You can hear excerpts from Hammond's radio interview here.
• Hammond discussed his career and his memoir, On the Road: Growing up in Eight Journeys – My Early Years, with the New Zealand Herald last week.
"Cars," wrote the paper, "still make him feel funny in his tummy." Hammond said: "You can intellectualize it, of course, but I love them because they excite me, I love the way they make me feel. It's visceral and basic."
When the Herald reporter asked how many cars he currently owns, the Hamster said that after "a bit of a thin-down," he's now got "probably 10 cars, maybe more" and 28 bikes. ("Some thin-down," the story noted.)
The Herald also asked Hammond whether he's friends with co-presenters Jeremy Clarkson and James May.
"I must be," Hammond answered. "We spend more time with one another than we spend with anybody else and we haven't actually stabbed each other yet."
Read More
Filed Under: