These English coppers give Sherlock a run for his money.
Have you ever had a late night, wake up the next day and think to yourself, "I don't even remember how I got home?" Yeah, me neither. That'd just be weird. But, this poor sod seems to have been in a state and woke up to this note from his local police in Hertfordshire, England: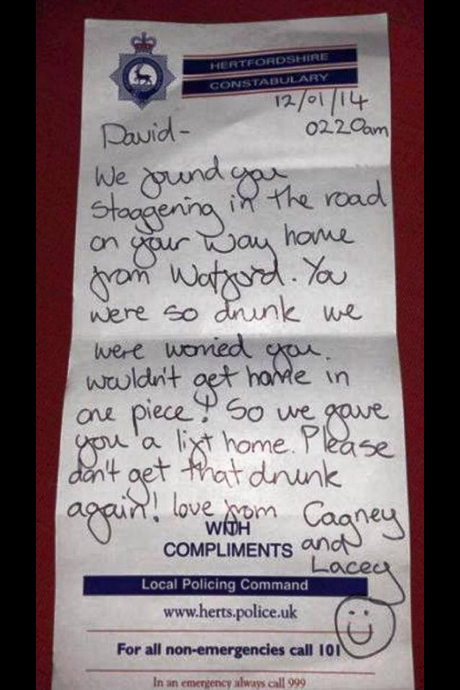 We wonder what "David" thought when reading this note through hungover eyes. He may have been relieved or utterly confused (and then relieved).
You might think this was a one-off and exclusive to Hertfordshire, but the police in the West Midlands of England get creative with their policing.
The law enforcement in Solihull, England used Twitter as an attempt to track down the owner of a stolen ring with this tweet:
We are trying to reunite this precious ring with it's rightful owner, do you recognise it? http://t.co/GzjycxIwAr

— Solihull Police (@SolihullPolice) January 13, 2014
They didn't have much success, so they sent out a follow-up tweet:
We're looking for the rightful owner of the suspected stolen ring, already had to turn this man away: pic.twitter.com/2pC3rAx6Af

— Solihull Police (@SolihullPolice) January 13, 2014
And, of course, as the Brits do … they sent out an apology:
We apologise for the 'Ring' puns today, it's difficult to break the hobbit.

— Solihull Police (@SolihullPolice) January 13, 2014
If you watch Law and Order regularly, you may be thinking, "Whut! Why are they fooling around, why aren't they out solving crimes?" But, if you've seen Simon Pegg's Hot Fuzz, you'll know that there is some downtime when it comes to crime fighting and it seems like they are indeed doing their job but having a bit of a giggle.
What do you think — funny or improper?
See More:
Brit binge Watching: Sherlock Holmes Adaptations
Five Great British Police Dramas
Brit Binge Watching: Five Detective Dramas You Can View Online
Read More
Filed Under: