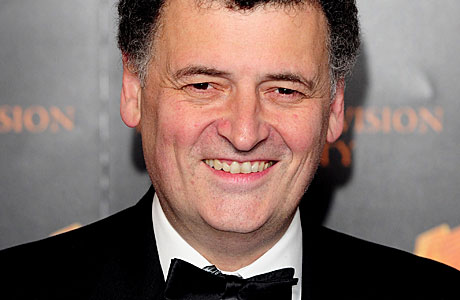 Poor Steven Moffat. Never mind that he has spent the last two years delivering two of the most beloved television series in the world, handling the problems of spiralling fame on the part of his leading actors, departures, anniversaries, and the small matter of Martin Freeman AND Benedict Cumberbatch needing to be available on the other side of the world for The Hobbit, if you put him in front of a room of journalists, sooner or later one of them will ask a variant on the following question:
"How long until the next season of Sherlock, please?"
That's the situation that faced him last night at a screening of "His Last Vow," the final part of Season Three. Having shown the episode and then opened the floor to questions, Steven described how he and Mark Gatiss cooked up the ideas for the next two seasons of murder and mystery:
"Rather excitingly, Mark and I, for no particular reason, we just got out of the rain and sat at the top of the production bus… and we just started plotting out what we could do in the future, and we plotted out the whole of series four and five."
"So we have got plans – but our plans don't tend to be 'Let's blow up the world or cast the most famous person in the world' they tend to be 'What exciting twists and turns can we add to this?' And I think we've got some crackers!
"The ideas we had that day, I thought were the best we've ever had."
And then the inevitable happened, the big question: WHEN WILL THIS COME TO PASS? And the response of the Sherlock panel, while infinitely patient, does give some hope to fans that maybe Season Four won't be quite such a long way off.
After gently ribbing his inquisitor about the amount of TV shows they had put out recently, Steven promised "we'll get them made as quickly as we can," while producer Sue Vertue admitted they're already on the case: "We're working on it. We're working on dates."
Of course the problem is to do with certain people becoming very, very popular as a result of Sherlock's success, as Steven explained: "Benedict and Martin are making some movies. If you say 'Who cares about movies?' I agree with you but they are doing them so we've got to schedule around that."
This prompted Amanda Abbington, who may have some idea as to the general availability of her partner, to add "Martin's free for now," helpfully.
Which begs the question: with resources being finite, what would you rather see more of – Doctor Who or Sherlock?
Second thoughts, don't answer that…
See more:
Steven Moffat Conducts Interview with Benedict Cumberbatch
Steven Moffat: "Why Would We Make 'Sherlock' Into A Movie?"
WATCH: 'Sherlock' Mini-Episode 'Many Happy Returns'
Read More
Filed Under: