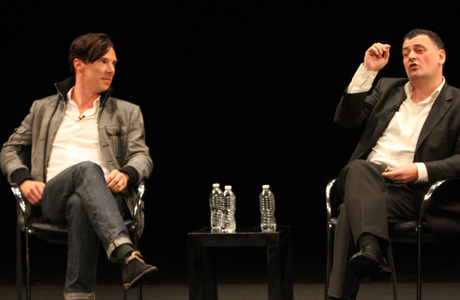 Well, this should be a bit of fun. Sherlock co-writer Steven Moffat says he's never formally sat down and interviewed someone, which he is about to do with Benedict Cumberbatch, who plays the title role in Sherlock. We have confidence in Moffat, having two megahits currently on air with Sherlock and Doctor Who.
Moffat cheekily starts off the Q&A, which he wrote up for RadioTimes.com, by telling readers that the "tape is running" meaning he's about to get the interview started. While there is no tape and the recorder is probably digital, he jokes around saying, "I haven't updated my personal vocabulary in 30 years."
Oh Steven … please don't change.
The interview gets underway with Moffat painting the picture for us saying, "He's wearing a coat." Such details, we can see this meeting of the minds like it's right in front of us. …we suppose it's up to us to fill in the blanks.
It's actually a nice segue because Moffat starts off the interview talking to Cumberbatch about the clothing Sherlock wears, and Cumberbatch admits that it does feel like "fancy dress."
Moving along, Moffat asks some harder questions, true journalistic-style, and asks this zinger, "Is Sherlock vain?" Moffat and co-collaborator Mark Gattis write the character of Sherlock but of course, it's nice to here Cumberbatch's thoughts on the matter.
When interviewing someone, a journalist may already know the answer but that's not the point. The point is to see what the interviewee has on the brain. Kudos to you Moffat as an interviewer.
He takes a break from questions and pays Cumberbatch a compliment on how his adlibbing is perfect and really adds to the performance. Cumberbatch's response? "Thanks boss!"
Moffat hones in on some specifics like Cumberbatch being a "sex-symbol", which he points out Cumberbatch hates talking about that, and then rounds out the interview by asking Cumberbatch where he'd like to see Sherlock go. The answer, and Moffat's commentary, are quite clever and entertaining.
We've highlighted some of the fun bits above, you can read the entire article here at RadioTimes.
Are you looking for Sherlock's return to PBS on January 19, 2014?
See More: 
Watch: 'Sherlock' Mini-episode 'Many Happy Returns'
Now This is How to Announce a Comeback
'Sherlock' Composer Promises "More Epicness"
Read More
Filed Under: