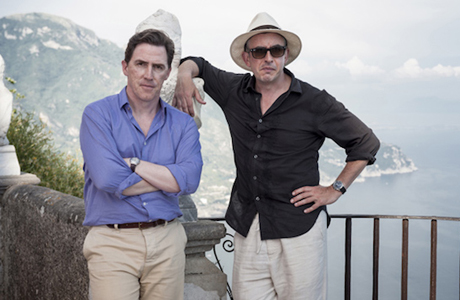 Thanks to the wonderful world of streaming technology, you can watch live next week on your laptop, tablet or smart phone when British funnymen Steve Coogan and Rob Brydon riff about their new film, The Trip to Italy, at the Sundance film festival.
The comic duo, along with director Michael Winterbottom, will be appearing in a Times Talk sponsored by the New York Times and conducted by Melena Ryzik, one of the paper's culture reporters.
Their hour-long discussion from Park City, Utah will be streamed live next Tuesday (January 21) beginning at 11:45 am ET. (It will be 9:45 am in Park City, site of the Sundance festival, so expect everyone to have cups of coffee in hand). To receive notification via email of the live streaming event, register here.
The Trip to Italy is a sequel to The Trip, the pair's 2010 improvised film in which they traveled through northern England, sampling gourmet meals and doing their dueling Michael Caine impressions.
This time out, as the title indicates, Coogan and Brydon journey through Italy, eating scrumptious meals and retracing the paths of the Grand Tours made by Romantic poets in the 19th century.
The 115-minute movie, a co-production of BBC, will have its world premiere at the festival next Monday (Jan. 20). To read more about the movie and see its schedule of showings at the festival, click here.
Expect Coogan also to be asked about the four Oscar nominations for Philomena, his hit film with Judi Dench, including his own nomination for Best Adapted Screenplay, which he co-wrote. The drama is also up for Best Picture, Best Actress (for Dench) and Best Original Score. Here's Coogan on BBC in the U.K. discussing his reaction yesterday after the nominations were announced.
There's no word yet on when Italy will open theatrically in the U.S.
Do you want to see A Trip to Italy?
See more:
Former BBC Correspondent Martin Sixsmith Portrayed on the Big Screen
WATCH: Steve Coogan Talks 'Funny or Die' MPAA Spoof and the 'Doctor Who'
What's The Most Disgusting Word You Could Say To Dame Judi Dench?
WATCH: Steve Coogan on Cynicism, Bad Journalists and Working with Dame Judi
Read More
Filed Under: