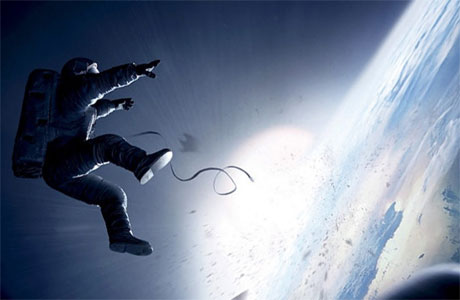 The list of nominations for this year's BAFTA film awards were announced this morning, and it seems, as with the Golden Globes, that there's a huge critical consensus around a handful of astonishing performances.
Most notably, there are the 11 nominations for Gravity, including best film and best British film, best director, and best actress for Sandra Bullock—and 10 nominations for 12 Years A Slave, including best film, best director, best supporting actor nods for Michael Fassbender and Lupita Nyong'o, and best actor for Chiwetel Ejiofor.
And then there's another 10 nominations for the comparatively recent American Hustle which equaled the Golden Globes' quartet of actorly nominations for the four chief stars: Amy Adams and Christian Bale (best actress, best actor), and Bradley Cooper and Jennifer Lawrence (best supporting actor and actress), as well as receiving nominations in the best film and best director categories.
And best hair & makeup, naturally.
Captain Phillips has a similarly glowing list, with nine nominations, including nods to Tom Hanks for best actor, Barkhad Adbi for best supporting actor, and Paul Greengrass for best director.
Behind The Candelabra (the HBO film competing as a U.K. theatrical release) and Saving Mr Banks both have five nominations each.
Elsewhere, Dame Judi Dench has set a new record for nominations—sneaking ahead of Meryl Streep's relatively paltry 14—after being listed in the best actress category for her sterling work in the adoption drama Philomena.
She told BBC News: "I'm very proud to be associated with this film and I thank BAFTA voters for the nomination. I'm honored and thrilled to be in such fine company."
The winners will be announced on Sunday, February 16, at a ceremony hosted by Stephen Fry, airing BBC AMERICA at 8/7.
The full list of nominees is as follows:
Actor
Christian Bale (American Hustle)
Bruce Dern (Nebraska)
Leonardo DiCaprio (The Wolf of Wall Street)
Chiwetel Ejiofor (12 Years a Slave)
Tom Hanks (Captain Phillips)
Actress
Amy Adams (American Hustle)
Cate Blanchett (Blue Jasmine)
Sandra Bullock (Gravity)
Judi Dench (Philomena)
Emma Thompson (Saving Mr Banks)
Supporting actor
Barkhad Adbi (Captain Phillips)
Daniel Bruhl (Rush)
Bradley Cooper (American Hustle)
Matt Damon (Behind the Candelabra)
Michael Fassbender (12 Years a Slave)
Supporting actress
Sally Hawkins (Blue Jasmine)
Jennifer Lawrence (American Hustle)
Lupita Nyong'o (12 Years a Slave)
Julia Roberts (August: Osage County)
Oprah Winfrey (The Butler)
Animated Film
Despicable Me 2
Monsters University
Frozen
Director
Paul Greengrass (Captain Phillips)
David O. Russell (American Hustle)
Steve McQueen (12 Years A Slave)
Alfonso Cuarón (Gravity)
Martin Scorsese (The Wolf Of Wall Street)
Film
12 Years A Slave
American Hustle
Captain Phillips
Philomena
Gravity
Documentary
The Act Of Killing
The Armstrong Lie
Tim's Vermeer
We Steal Secrets: The Story Of Wikileaks
Blackfish
Adapted screenplay
12 Years a Slave
Behind the Candelabra
Captain Phillips
Philomena
The Wolf of Wall Street
Original screenplay
American Hustle
Blue Jasmine
Gravity
Inside Llewyn Davis
Nebraska
Rising Star
Dane Dehaan
Lupita Nyong'o
George Mackay
Will Poulter
Léa Seydoux
Film not in the English Language
Blue Is The Warmest Colour
The Great Beauty
The Act Of Killing
Wadjda
Metro Manila
Outstanding British Film
Mandela: Long Walk To Freedom
Saving Mr. Banks
Philomena
The Selfish Giant
Gravity
Rush
Outstanding Debut By A British Writer, Director or Producer
Colin Carberry, Glenn Patterson (Good Vibrations)
Kelly Marcel (Saving Mr. Banks)
Kieran Evans (Kelly + Victor)
Paul Wright, Polly Stokes (For Those in Peril)
Scott Graham (Shell)
Original Music
Hans Zimmer (12 Years A Slave)
John Williams (The Book Thief)
Henry Jackman (Captain Phillips)
Steven Price (Gravity)
Thomas Newman (Saving Mr. Banks)
Cinematography
Sean Bobbitt (12 Years A Slave)
Barry Ackroyd (Captain Phillips)
Emmanuel Lubezki (Gravity)
Bruno Delbonnel (Inside Llewyn Davis)
Phedon Papamichael (Nebraska)
Editing
Joe Walker (12 Years A Slave)
Christopher Rouse (Captain Phillips)
Alfonso Cuarón, Mark Sanger (Gravity)
Dan Hanley, Mike Hill (Rush)
Thelma Schoonmaker (The Wolf of Wall Street)
Production Design
12 Years A Slave
American Hustle
Behind The Candelabra
Gravity
The Great Gatsby
Costume Design
American Hustle
Behind The Candelabra
The Great Gatsby
The Invisible Woman
Saving Mr. Banks
Make-Up & Hair
American Hustle
Behind The Candelabra
The Butler
The Great Gatsby
The Hobbit: The Desolation of Smaug
Sound
All Is Lost
Captain Phillips
Gravity
Inside Llewyn Davis
Rush
Special Visual Effects
Gravity
The Hobbit: The Desolation of Smaug
Iron Man 3
Pacific Rim
Star Trek Into Darkness
British Short Animation
Everything I Can See From Here
I Am Tom Moody
Sleeping With The Fishes
British Short Film
Island Queen
Keeping Up With The Joneses
Orbit Ever After
Room 8
Sea View
See more:
BAFTA Celebrates 50 Years Of 'Doctor Who'
James Bond And The Argonauts: The 2013 BAFTAs
BAFTAs: Abraham Lincoln Invades Britain And Beats Up James Bond
Meryl Streep Wins Acclaim, 'Iron Lady' Thatcher Remains Lightning Rod
Read More
Filed Under: