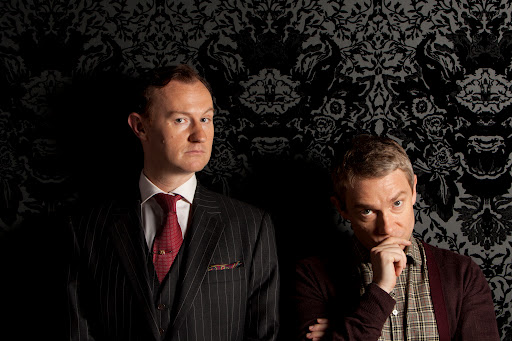 Last week Steven Moffat, Sherlock co-creator and Doctor Who showrunner, interviewed title star Benedict Cumberbatch about all things Sherlock. It's only fair that Martin Freeman gets the same treatment, with Sherlock co-creator Mark Gatiss asking the questions.
Gatiss, who portrays Sherlock's older brother Mycroft Holmes, kicks off the interview for RadioTimes.com explaining that Cumberbatch was the only actor they considered for Sherlock Holmes but "finding his Watson was a slightly more involved process."
Freeman was keen to audition for Moffat and Gatiss but he reminds Gatiss, "It's probably fair to say I wasn't in the best frame of mind …" He is referring to his wallet being stolen on the way to the audition. Apparently Freeman's agent rang him the next week and it was thought Freeman just wasn't that into the part. Freeman was indeed interested, explaining it was just not his day. He went back for a second time and read with Cumberbatch and "it instantly worked."
Freeman elaborates on the dynamic between the two besties saying, "Although there's an inherent light-heartedness to Sherlock, I slightly err towards not doing the comedy." He admits that it may seem like he's playing the part "dead straight," but then he looks back and realizes that it's, yeah, it's funny.
Gatiss continues the interview with a relaxed, conversational style getting into the details of Watson as a character, whether or not Freeman had any preconceived notions, how Watson has changed over the three series and Sherlock's best mate falling in love.
You can check out the entire interview and the answers to the above at RadioTimes.com.
Are you looking forward to Sherlock's return to PBS on January 19, 2014?
See More: 
Watch: 'Sherlock' Mini-episode 'Many Happy Returns'
Now This is How to Announce a Comeback
'Sherlock' Composer Promises "More Epicness"
Read More
Filed Under: