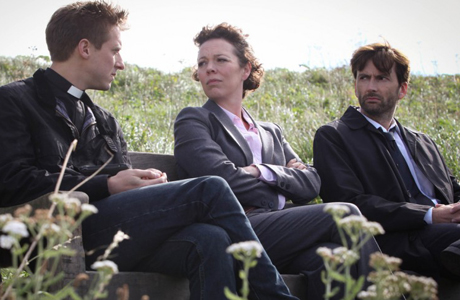 Broadchurch may be off the air in both the U.S. and the U.K. but the show is still making news. It was just voted the best TV show of the year in Britain in Radio Times' annual poll of its critics.
"Broadchurch drew the nation into a collective hysteria every Monday night for eight weeks, as who killed Danny Latimer became the talking point in the press, pubs, front rooms and factories up and down the country," said Tim Glanfield, editor of RadioTimes.com. "A brilliant piece of homegrown drama with an exquisite cast of actors, Broadchurch is a fantastic example of British TV at its very best."
The show, which airs on ITV in the U.K. and on BBC America in the U.S., beat out other prestigious  dramas such as Homeland, Breaking Badand BBC's Sherlock (which won last year).
Catching up on other Broadchurch tidings:
David Tennant has revealed that he'll be getting help on his American accent for his role in Fox's Yank remake of Broadchurch, renamed Gracepoint, which begins shooting in January and will air next fall.  "I will be doing an American accent, yes," the Scottish-born actor said during an interview that aired on Absolute Radio earlier in December. "I will start working on it this afternoon actually and am getting help from a voice coach over Skype from America."
Broadchurch co-star Olivia Colman knows how to keep a secret. She said in a recent interview that she found herself eschewing the subway or bus near the show's finish in the U.K. to avoid facing questions from fans about whodunit. "In the final couple of weeks of Broadchurch I ended up spending a fortune on cabs, because every time I took the train l would see people nudging each other, whispering, 'Ask her, ask her,' " she said. "I was getting texts from friends saying, 'Tell me, tell me.' But I couldn't, because I'd signed all these legal documents swearing me to secrecy. I didn't even tell my mum and dad."
Multiple Oscar-nominee Nick Nolte has joined the cast ofGracepoint, the American version of Broadchurch, along with Michael Peña. The Prince of Tides star will play Jack Reinhold, a local shop keeper with a secret past. Pena will portray Mark Lassiter, the father of youth whose murder is central to the show's plot.
Are you looking forward to Broadchurch?
See More:
Broadchurch Season One Recaps
Longing for More Broadchurch? Here are Extra Scenes
Broadchurch: The Evolution of Pauline Quirke
Read More
Filed Under: