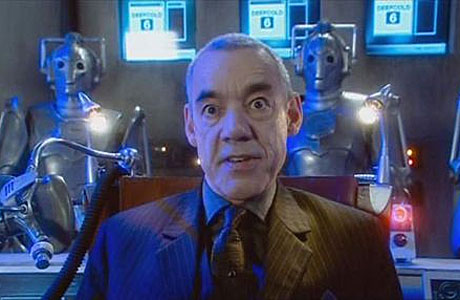 The BBC is reporting that the actor Roger Lloyd-Pack has died, aged 69. He had been suffering from pancreatic cancer.
A fine character actor, on TV and in plays by Alan Bennett and William Shakespeare, his job in a comedy was often to be the character who pulls the wheels off the wagon; to undercut whatever point is being made with a line that takes a step towards joining in, while proving that he has absolutely no idea what is going on. Not just in the conversation, but in life.
Here's something like this, from his most celebrated role, as Trigger in Only Fools And Horses:
http://www.youtube.com/watch?v=3O8SgaDOock
Or this, as the disgusting, dour farmer Owen in The Vicar of Dibley:
But his fame as Trigger did not precluding him taking dramatic roles; he also appeared in Harry Potter and the Goblet Of Fire as the high-ranking wizard Barty Crouch.
And that wasn't the only time he and David Tennant appeared together (well, sort of):
http://www.youtube.com/watch?v=IZRtFkD3Mkw#t=83
But his most lasting contribution to British culture (out of many) will probably be that he's part of the scene that is often voted the best moment in British comedy history, as Trigger again. Out on the pull with Del Boy and always a beat behind everyone else.
See more:
A Very British Christmas Part 10: Five Great TV Specials
James Buckley: Glad To Play A Role He Can Watch With His Parents
Five Great British Things The Americans Ruined
Damian Lewis In 'The Vicar Of Dibley'? It Must Be Comic Relief
Read More
Filed Under: