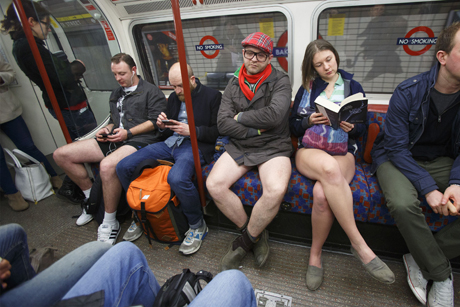 The No Pants Subway Ride originated in NYC in 2002 and has picked up steam, with other cities, including London, following suit on Sunday, January 12. As we know, "pants" in England is understood to be underwear, so with that said, Londoners have renamed their version of the risqué field trip using the word "trousers" to clarify.
This isn't a fundraiser or a stance on the right to bare legs, it's really just a bit of fun to shake things up a bit. The original train trip began when seven members of the acting group Improv Everywhere took to the trains pants-less, to give riders a bit of a giggle.
The London organizers, Rammi Glomp, met up for a pre-drink at Chandos pub in Trafalgar Square at 1:30pm and then disbanded onto the London tube. The group rounded off the day at Chinatown Pagoda in Newport Place at 3pm, to swap stories from their adventures. The group's Facebook page has a head count of approximately 250-300 participants. This is the fifth anniversary of the London trot.
We're starting to see a pattern; Londoners like to take their clothes off in public with little urging as seen last year when 300 runners streaked through the London Zoo.
Here's a peek at what went down yesterday in the London underground: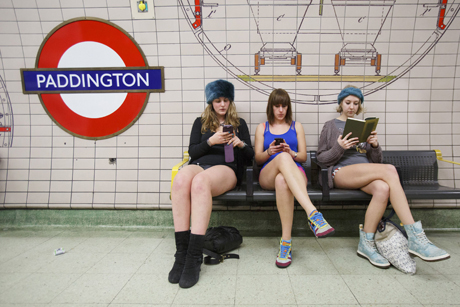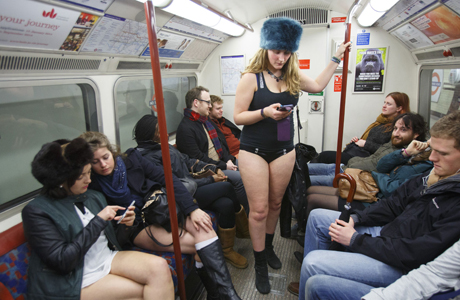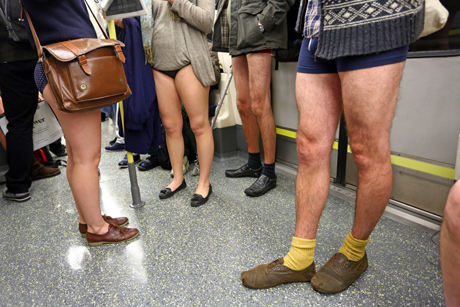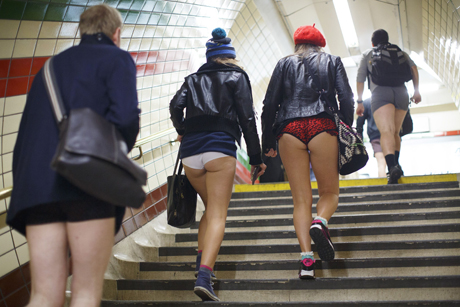 We're wondering what other train riders thought, who weren't in on the joke. With an AP photographer on site, these commuters in the pics are aware something is up. But, just imagine, sitting across from one lone rider, with no trousers, and you're scratching your head. It's like, "Is this person a little off?"; "Did this pour soul just forget to put on his trousers?"; "Am I on a modern-day Candid Camera?"
Here's a video from 2013:
At what point do they put their trousers back on?
See More: 
300 Streakers Run through London Zoo
Lost in Translation: Five Things That are the Same but Different
Brits Have Strong Feelings About Men in Red Trousers
Read More
Filed Under: